Things to do in Falmouth
April 1, 2022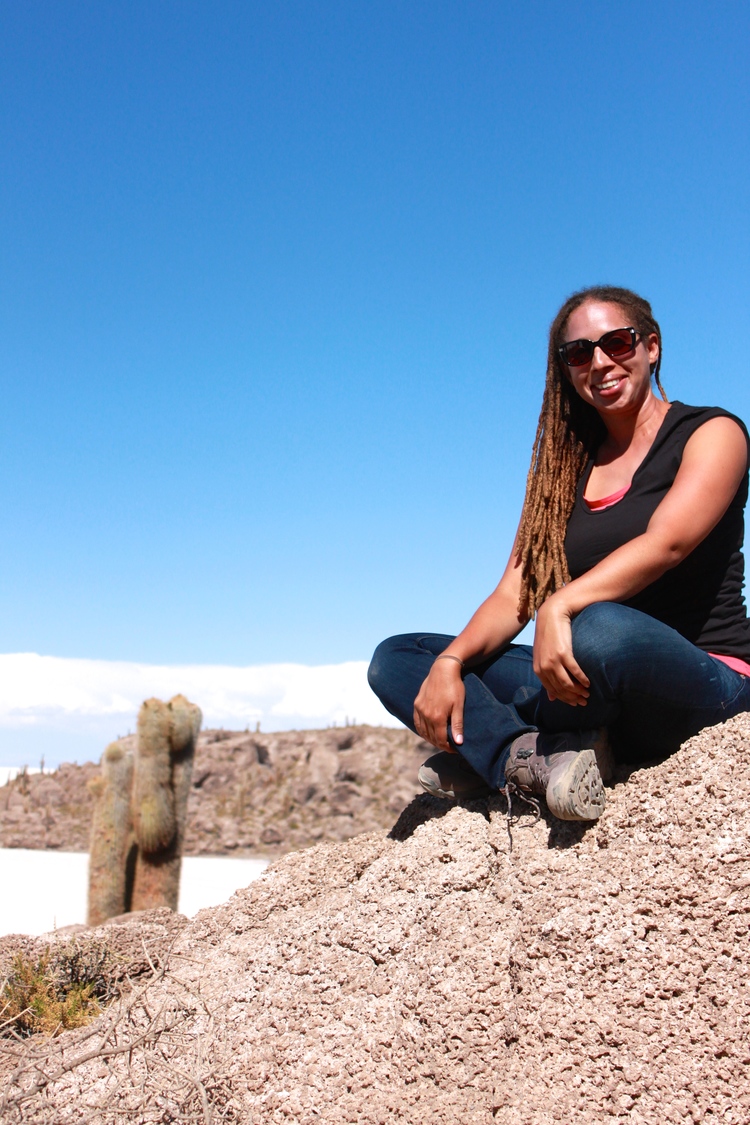 Falmouth might not be the first city you think of when planning a trip to Jamaica but it should definitely be on your radar. Keen to try your hand at bobsledding? What about a dip in some secret waterfalls? Falmouth is ideally situated to make sure you get the most out of your visit to Jamaica no matter what you're craving. Here are some of the top things to do in Falmouth, Jamaica so you can make sure you're not missing out on your next favorite holiday activity.
What is Falmouth Known For?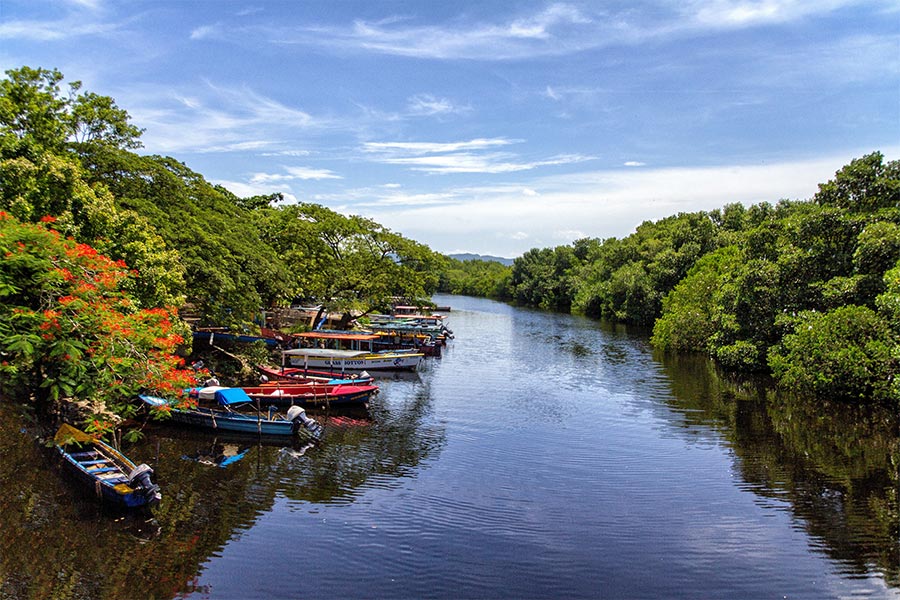 Jamaica is without a doubt one of the most popular islands in the Caribbean thanks to its picturesque beaches, majestic mountains, and a rich culture. What sets Falmouth apart from Jamaica's other destinations is its unique history that's still evident in the many Georgian-era buildings on display along the waterfront district, some dating from the 1760s to 1840. If you're looking to combine Jamaica's natural and adventurous attractions while getting a glimpse into the past, there are many things to do in Falmouth, Jamaica that should satisfy any visitor.
If you've got beaches on the mind, Falmouth has got some great options on offer. In fact, one of the North Coast's most popular beaches is within easy reach of the city so you could get from the cruise port or your hotel to some white sandy heaven before you know it.
Burwood Beach
Burwood Beach is situated close to the Falmouth cruise port and makes a convenient day trip for those looking for a day of sun, sand, and sea. It's a rarity as Jamaican beaches go as it's accessible by the public (for a small fee) which gives you the added benefit of being able to share this stunning coastline with some locals and wile away the day the way they do. Vendors occasionally pop over to sell a variety of treats including fresh fish, and the amenities on offer include changing rooms, bathrooms, and lifeguards on duty.
Doctor's Cave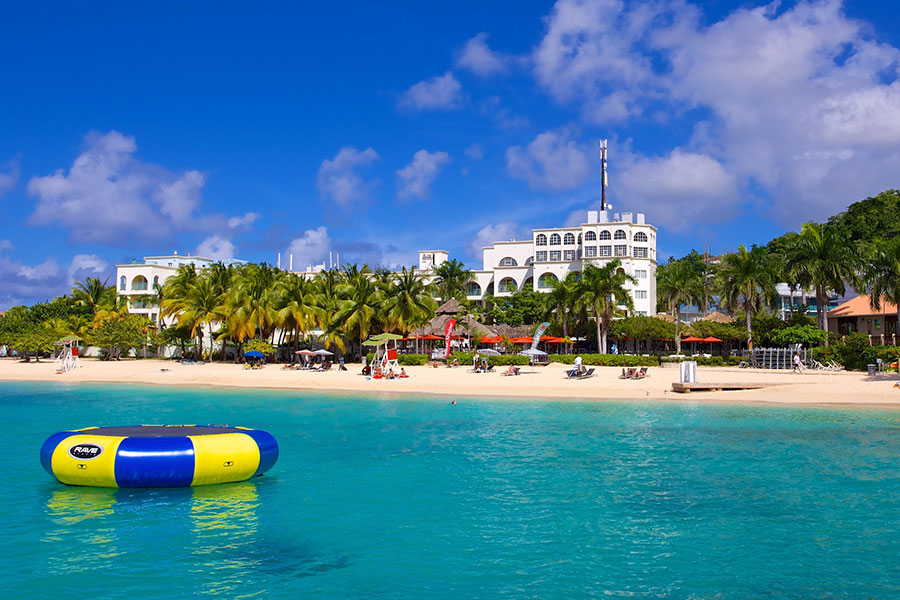 If you're willing to head a bit further out of Falmouth, Doctor's Cave Beach in Montego Bay is worth the trip. This five-mile stretch of pure white sand beach straight out of a postcard features warm, shallow water, a water trampoline for the young ones, and a restaurant on the beach so you can enjoy a plate of jerk chicken right on the beach. Kayaking, parasailing, and snorkeling equipment are all available to hire.
Blue Hole
The Blue Hole is one of Jamaica's lesser-visited natural wonders and one you should visit before the secret gets out. Tucked away in the mountainous rainforest you'll find this hidden gem where you can go cliff diving into one of the many natural pools, use a rope swing to unleash your inner Tarzan, or get covered by the clay on a hike along the river. You can explore this off-the-beaten-path falls on a Blue Hole Secret Falls tour.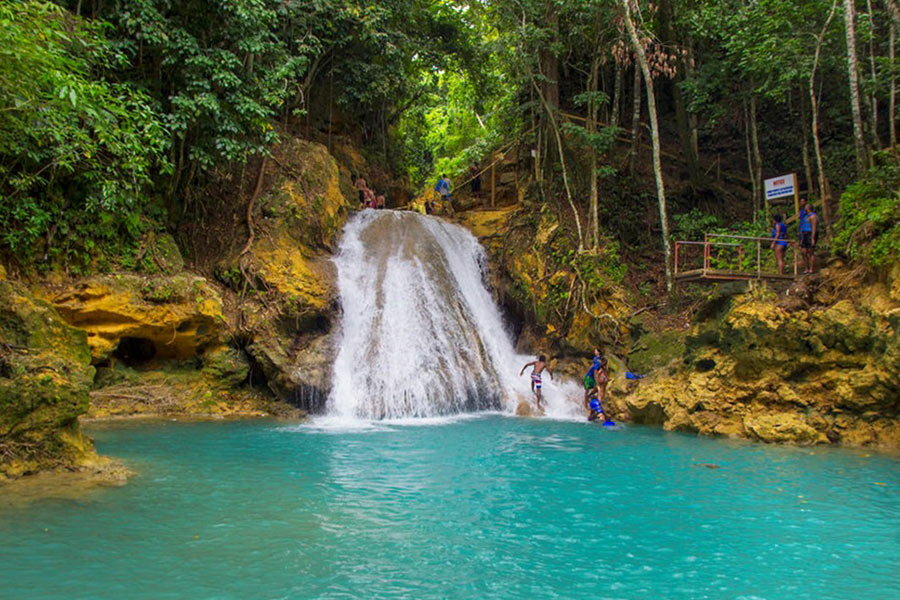 Green Grotto Caves
If you're a James Bond fan, you might already be familiar with the Green Grotto Caves. Featured in the 1973 Live and Let Die, these caves are considered as one of Jamaica's most fascinating things to do in Falmouth, Jamaica.
The amazing natural formations include dramatic limestone structures, formidable stalagmites, and its very own lake, Grotto Lake. On your visit, keep an eye out for the bats, snakes, and snails that live inside, including the Jamaican fruit-eating bats that make quite an impression.
Luminous Lagoon
This special lagoon is home to millions of dinoflagellates, microorganisms that thrive in the layers where fresh and saltwater combine. Known for being the largest of only four of its type in the world, the Luminous Lagoon sparkles and glistens at night.
When the dinoflagellates are disturbed, they produce an eerie glow that reflects the outlines of fish and any other objects in the water. On a Luminous Lagoon tour, a boat will take you on a ride around the lagoon and then you'll get to jump out and swim so your body is surrounded by the luminous green glow as well.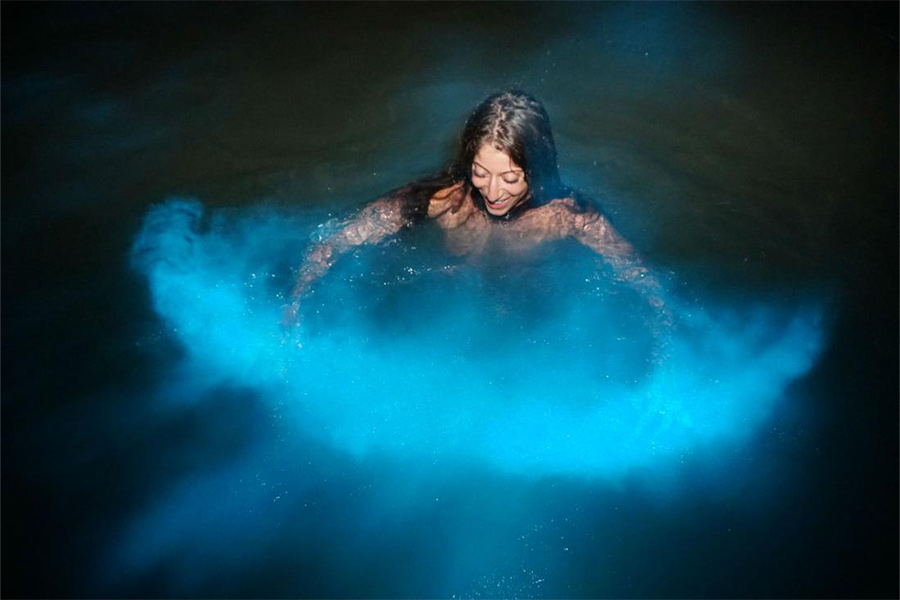 One of the best things to do in Falmouth, Jamaica is to explore the other side of what makes Jamaica a great place to visit, its history and culture. What marks Falmouth as an ideal base is that you can find many of Jamaica's great houses, museums, and other cultural treasures within easy reach.
Rose Hall Great House
Great houses, or plantation houses, were prominent at a time when sugar cane was making Jamaica the wealthiest colony in the West Indies for England. Found less than 30 minutes from the Falmouth cruise port is arguably the most popular of Jamaica's great houses, Rose Hall. Rich in history, mystery, and folklore, Rose Hall is most known for its legend of Annie Palmer, the White Witch.
On a visit, you can take a guided tour and enjoy the chilling tales of Annie's reign of terror. Make sure to take in the rich architecture of this heritage site including the beautiful gardens, or spend a few hours on the 18-hole championship golf course.
Good Hope Great House
Another of Jamaica's great houses that's worth a visit is found right in the Trelawny parish near Falmouth. A visit to Good Hope will teach you about its history as a sugar plantation and see what life was like for the area in the 18th century.
You can see the structures for the Carriage House, Coach House, and sugar factory, and see the site of the first hot water bath in the Caribbean, evidence of what a thriving center of commerce the town of Falmouth was.
Bob Marley Museum
Not too far from Falmouth, you can also find the former home and final resting place of reggae legend Bob Marley. You'll ​​get to hear stories about his life and music, and gain little-known insights into the meaning behind some of his famous songs.
If you're coming on a cruise ship, keep in mind that the museum is located 1 hour and 30 minutes from the Falmouth port so it's important to factor in enough time to get there and back. Consider booking a private Bob Marley tour to ensure you make the most of your day.
8 Best Activities in Falmouth
Jamaica is filled with great activities to fill your travel itinerary many times over. Falmouth, in particular, allows easy access to some of the island's premier attractions including waterfalls, river rafting, and even an adventure park built on a mountain. Read on to find out the best things to do in Falmouth, Jamaica whether you're craving adventure or something a little more laidback to embrace the island vibes.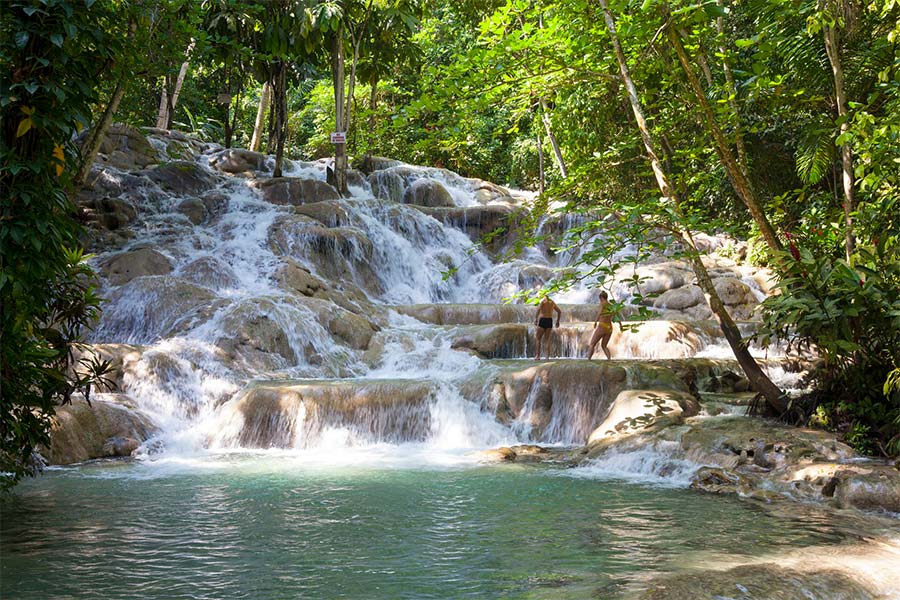 Dunn's River Falls
Topping any list of things to do in Falmouth, Jamaica, Dunn's River Falls is the activity everyone's got on their must-do list, and for very good reason. Start your day off with a leisurely ride along the scenic North Coast of Jamaica until you get to one of the island's national treasures.
At the falls, you can choose to climb the 600 ft cascading waterfall or just bask in the natural pools and sunbathe on the nearby beach. A Dunn's River Falls tour gets you there and back in half a day so you can fit in other fun activities around Falmouth.
Check out our guide to Dunn's River Falls
Hampden Estate Distillery Tour
If you're a fan of rum, make a beeline for one of the oldest rum manufacturing estates in town. Here you can learn about the history of the estate, the history of rum, and how rum is made using a 260-year-old process. Sample some of the good stuff at the end of your tour before getting the opportunity to explore the picturesque grounds that make up the estate.
Martha Brae Rafting
The Martha Brae River winds through the north coast of Jamaica and provides the opportunity to take in one of the most beautiful parts of the island. The adventure begins at Rafter's Village, located on a natural horseshoe island fitted out as a fully appointed recreational facility.
To begin, you can visit Miss Martha's Herb Garden and view some of Jamaica's medicinal and healing herbs. When you're ready, board your 30-foot bamboo raft with the help of your captain and you'll get to learn about the history of the area as you glide down the river. If you're feeling particularly steady, you can try out 'poling the raft' on your own.
ATV Riding
An ATV tour is one of the most extreme things to do in Falmouth, Jamaica and is certainly one for the memory books. ATV tours are a huge thrill and Falmouth is one of the best places to experience it with so much natural beauty surrounding the city. You'll get to experience many of the nature trails, vegetation, and wildlife as you ride through the rugged rainforest terrain.
Mystic Mountain
A day at Mystic Mountain is all about letting your inner thrill-seeker take charge. Not only do you get up close with the heart of the Jamaican rainforest but you'll also have a load of adventure activities to test your hand at.
Think, ziplining, bobsledding, and even a ropes course and that's just a snapshot of what's on offer. You can do as much or as little as you like on a Mystic Mountain Adventure tour with activities for the whole family and even a few opportunities to relax and take in the scenery in between.
Rois Lagoon Kayak Tour
Go on a journey through the wetlands of Falmouth to learn some of Jamaica's natural secrets. View native flora and fauna including mangrove trees, flying fish, and several species of birds while kayaking through the shallow, calm waters of a private lagoon. You'll get to stop in Pirate's Cove where you'll get a chance to learn more about Falmouth's rich cultural history and even get to raid the pirate's treasure if you're lucky.
Swamp Safari
A must-visit for any animal lover, Swamp Safari is a wetland nature reserve set amongst two acres of Trelawny mangroves. The attraction has tons of surprises up its sleeves including over 80 crocodiles along with some owls, snakes, and iguanas to get to know. James Bond fans will also recognize the reserve from Live and Let Die and will be able to watch a reenactment of a scene from the movie at the end of the tour.
Tubing on Rio Bueno River
The small village of Rio Bueno hides a fun natural activity that's a bit more off the radar. The lush vegetation surrounding the Rio Bueno River creates the perfect ambiance for a half-day river tubing adventure. Your guide will share some history of the island as you float along and if you're up for more of a thrill, there are ropes to swing from, ledges to jump off, and the opportunity to jump in and have a swim in the cool water.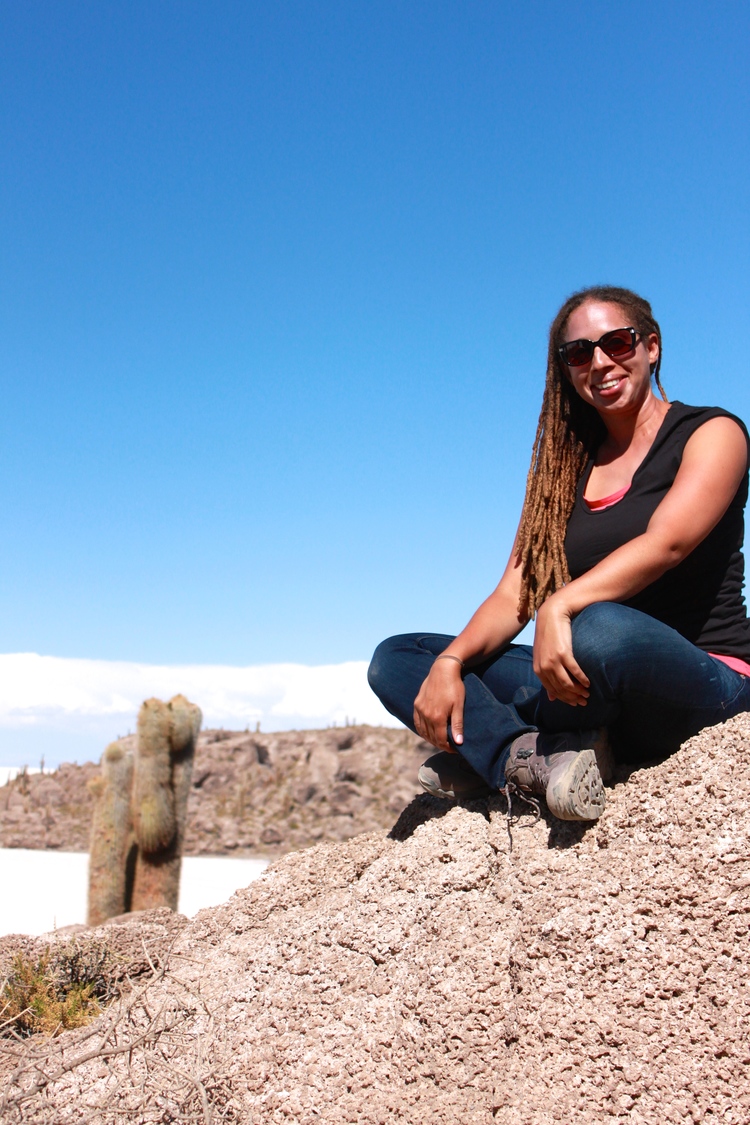 Cristal D
Local Writer, Global Traveler
Cristal Dyer was born in the Caribbean and has spent the last several decades travelling and writing, including several stints in Latin America. Currently based in Australia, she owns and operates her own travel site tofutraveler.com and is an expert travel writer, editor and photographer with a focus on solo budget travel and food tourism.