Guide to Dunns River Falls
March 26, 2022 / updated March 13, 2023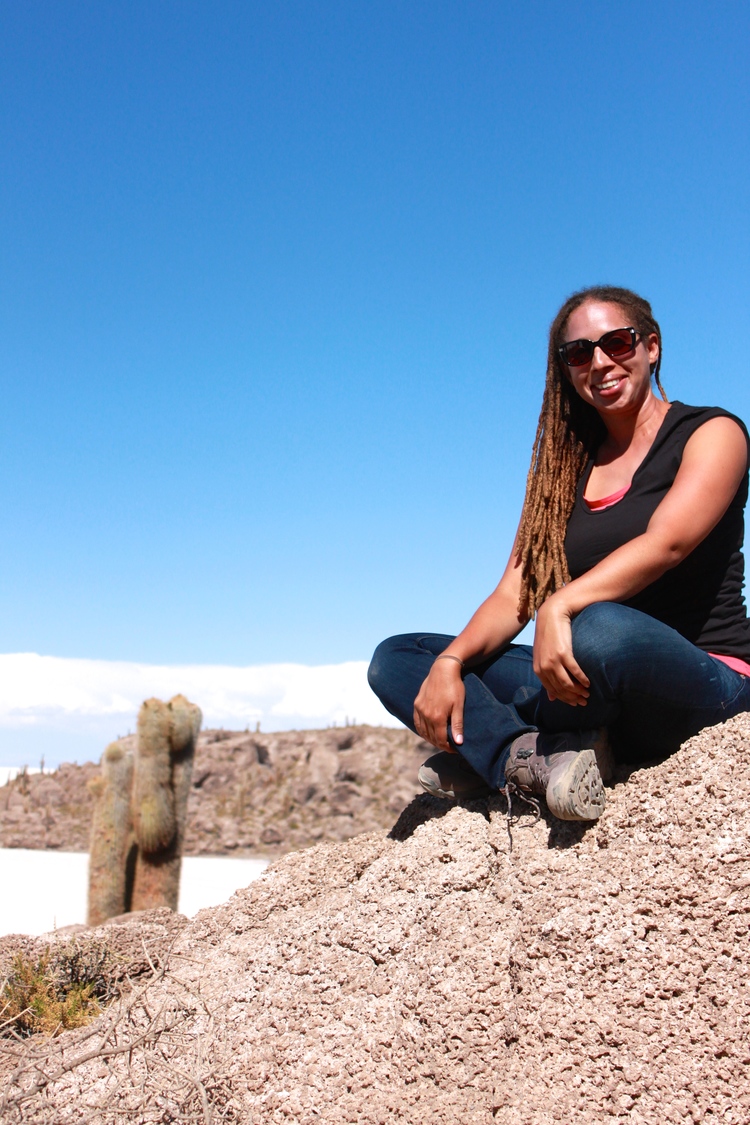 Dunns River Falls is considered one of Jamaica's national treasures. It's a shining example of the island's ability to mix natural beauty with exhilarating adventure and draws in thousands of visitors every year. Find out everything you need to know about Dunns River Falls, including what makes it so special, how to get there, and what you can expect on a visit to the park in our complete guide.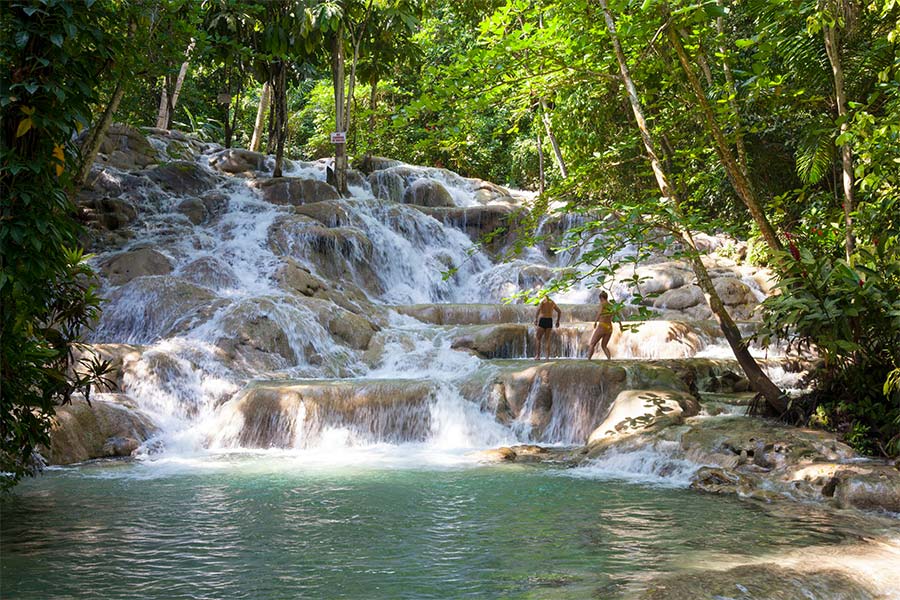 The History of Dunns River Falls
The falls stand 180 feet tall and 600 feet long and are considered a living and growing phenomenon. Dunns River Falls continually renews itself from deposits of travertine rock which are the result of calcium carbonate flowing over the falls from the river.
The falls is believed to be the site of the famous battle of "Las Chorreras", fought between the English and the Spanish in 1657 for possession of the island. The Spanish dubbed the area "Las Chorreras", which means 'the waterfalls' or 'springs'. The English eventually won the battle, and under their rule "Las Chorreras" was first owned by Charles Pryce. It was eventually acquired by the Government of Jamaica in 1972 for future development of recreational and park facilities and has grown into one of Jamaica's top attractions.
Why is Dunns River Falls Famous?
Jamaica has more than its fair share of spectacular waterfalls. From the seven-tiered YS Falls on the South Coast to the hidden paradise of the Blue Hole Falls in Ocho Rios, one could make a whole vacation out of visiting each one of its waterfalls.
What truly makes Dunns River Falls stand out from the rest is that you can actually climb it. It's a highlight of any Jamaican itinerary to spend a couple of hours trekking up the falls and swimming in the natural pools found along the way.
Climbing the Falls: What to Expect and How to Prepare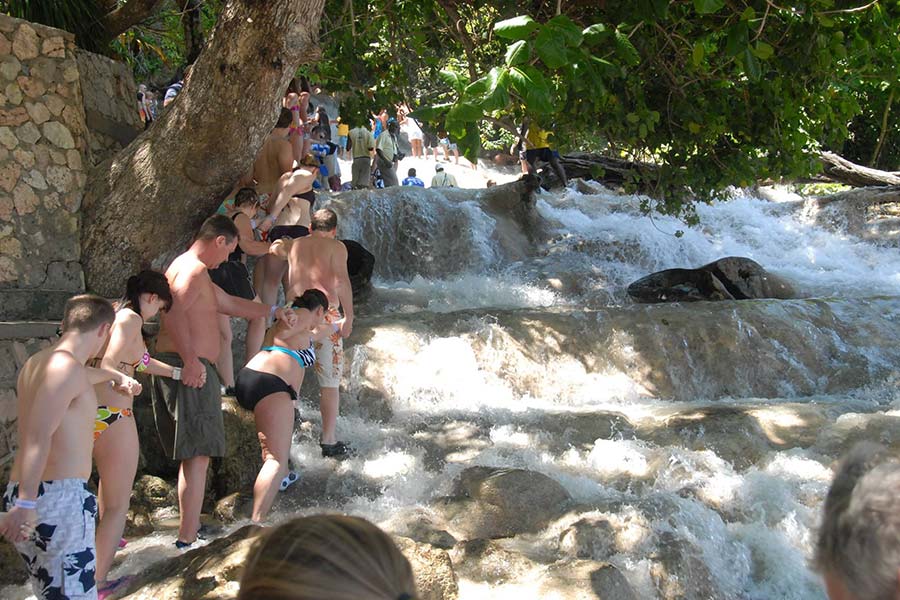 The best way to picture climbing Dunns River Falls is to imagine tackling 600 steps, if those steps were all different heights and covered in a constant flow of water. The climb can take you between 35 minutes to 1 hour and 30 minutes depending on your group and general level of fitness but it's never treated like a race and there are opportunities to stop for a break and to take photos along the way.
Your guide will instruct you to hold hands with the people before and after you for safety reasons. This may feel silly in the beginning but it really does help to make sure everyone stays on the right path.
Top tip: If you want to just focus on the climb and enjoy the experience, forget about bringing a water camera. A photographer will follow your group and capture all the fun for you to purchase later.
For those who really don't want to get wet or navigate the tricky terrain, you can still hike up the waterfall in what's dubbed 'The Dry Climb.' This version allows you to walk up a trail next to the falls.
Don't feel up to climbing? While it might seem intimidating, it's important to know that very few people get injured climbing the falls. If you're still not feeling it, you don't actually have to climb. There are a lot of other activities to do at the park once you've taken in all the wonder and snapped some photos.
Who Can Climb Dunns River Falls?
Officially, there is no age limit to climb the falls but the team at Dunns River Falls recommend ages seven years and above to climb.
As a general guide, climbers should be taller than 36 inches, should know how to swim, and should be strong enough to combat the constant flow of water hitting their legs as they climb. You are not recommended to do the climb if:
You're pregnant
You have a heart condition or high blood pressure
You suffer from back, knee, or neck problems
You have a significant physical ailment
You're vulnerable to injury
You're under any form of alcohol or drug influence
You're under 3 feet tall
Insider tip: There are exits located along the climb so if you ever feel like it is too much, you can choose to exit the falls before reaching the top.
Other Activities at Dunns River Falls Park
Dunns River Falls is one of the few of its type in the world which empties directly into the sea. You can check it out for yourself as your entry ticket gives you access to Dunn's River Beach. Experience the warm waters of the Caribbean Sea with the occasional cool bursts from the Dunn's River.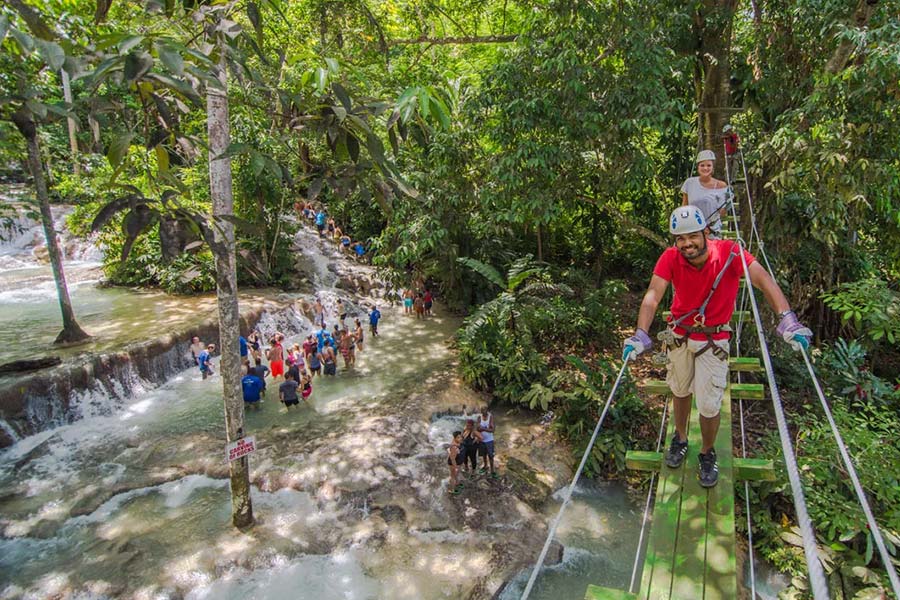 After you've conquered the falls, if you're still seeking some thrills, ziplining is available at the park. Get a whole different perspective on the falls as you soar hundreds of feet in the air above them. Or, enjoy an incredibly scenic float down the river to the beach on a tubing adventure.
If you've got little ones along for the fun, there is a water play section complete with a water slide, overflowing buckets, and a splash pad. A picnic area is also available so you can make a day of it and bring a packed lunch.
What Should You Pack and Wear to Dunns River Falls?
The number one thing you'll need to climb the falls are water shoes. The rocks will be wet and slippery so you'll need to wear closed-toed shoes as a minimum but water shoes are recommended to really get the most out of the experience. If you don't have your own, you can rent them at the falls.
Other items that you should bring along include:
Waterproof camera or phone with a waterproof case
Swimwear
Change of clothes
Towel
Sunscreen
Cash for tips, souvenirs, or snacks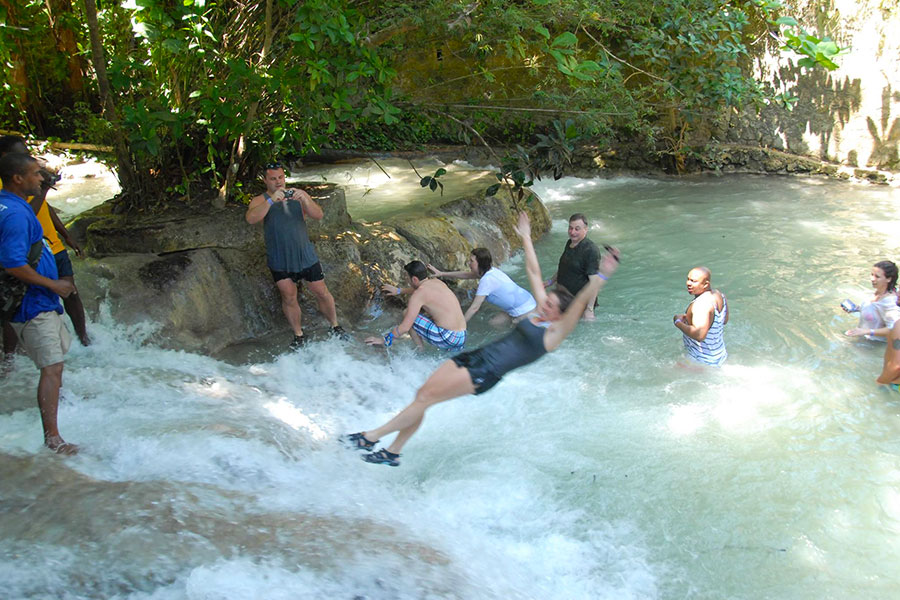 Activities and Amenities Near Dunns River Falls
Mystic Mountain is an adventure park with a difference. If you're looking for more adrenaline-fueled adventure amongst Jamaica's stunning rainforest backdrop, look no further. Here you'll find bobsledding, ziplining, and even a ropes course plus a few opportunities to relax and take in the scenery in between all the activities. It is conveniently located right beside Dunns River Falls.
Dolphin Cove is another popular attraction in Ocho Rios and is found almost across the street from the falls. You can spend the day swimming with dolphins, petting stingrays and camels, and relaxing on the glistening white sandy beaches of Dolphin Cove.
Margaritaville Beach is the ideal place to spend the afternoon after a big day of adventuring. You'll find an immaculately cared for private beach, roof-top whirlpool, swim-up pool bar, and waterslide here along with a chance to grab a cold drink and a bite to eat right on the water. You can combine your Dunns River Falls experience with a stop at Margaritaville on an organized tour.
Getting To and Around Dunns River Falls
Dunns River Falls is located on the outskirts of Ocho Rios and no more than 5-10 minutes from most places in town, including the cruise port. To get here, you can take a taxi or visit with an organized tour.
Not surprisingly, no matter where you're staying in Jamaica, you'll want to pay a visit to its most famous attraction. Fortunately, Dunns River Falls is accessible from most of the island's resort towns and cruise ports. If you are arriving on a cruise ship into any of Jamaica's cruise ports, you'll have enough time to visit the falls (especially if you're booking a tour) but you might be up for a longer commute depending on where you've docked.
Here's how far the falls are from some of Jamaica's most visited cities:
Ocho Rios: 2.5 miles (10 minutes)
Falmouth: 43 miles (1 hour 5 minutes)
Kingston: 50 miles (1 hour 10 minutes)
Montego Bay: 60 miles (1 hour 35 minutes)
Port Antonio: 66 miles (2 hours)
Negril: 108 miles (2 hours 50 minutes)
The Best Times to Visit Dunns River Falls
Dunns River Falls is best early in the morning (before 11 am) or later in the day (after 2 pm) when you will avoid the majority of the crowds.
If you're arriving on a cruise ship, the best time to visit the falls is as early as possible. Booking a tour is also a good idea as your guide will be able to plan your visit around the busiest times of the day.
If you aren't visiting Jamaica on a cruise ship, the absolute best time to visit Dunns River Falls is on a day when there aren't any ships docked. Wednesday, in particular, tends to be the busiest cruise ship day. Port schedules are posted in advance online for each of Jamaica's cruise ports so you can plan around them.
How Much Does it Cost to Enter Dunns River Falls Park?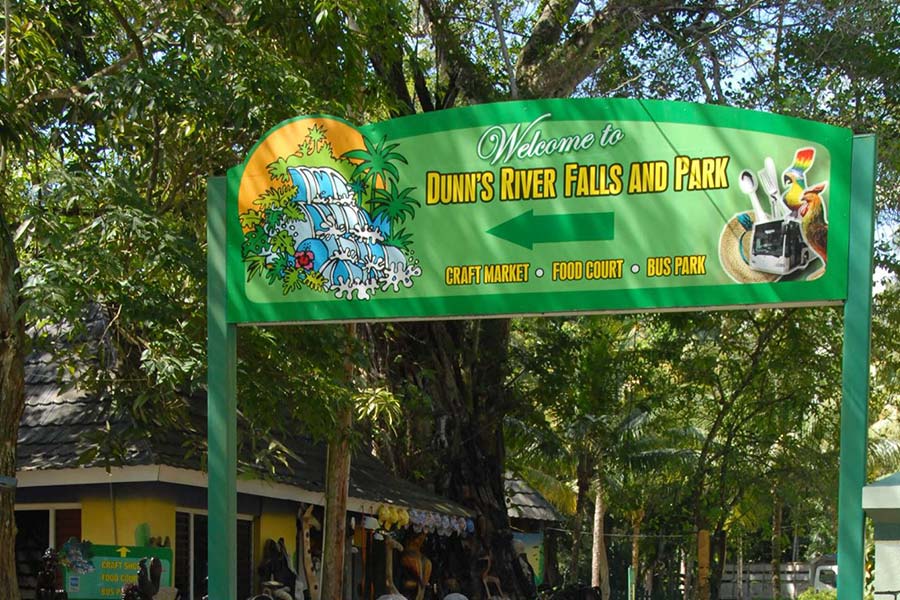 The entrance fees to Dunns River Falls include entry to the park for the day and a guide for your climb up the falls. You can pay with local Jamaican dollars (JMD), USD, or a credit card. Dunns River Falls is open daily from 8:30 am to 4 pm, including holidays.
Prices for Visitors:
Cost per adult – USD $25
Cost per child (ages 4 - 12) – USD $17
Booking a tour includes roundtrip transportation with a local guide, admission fees, and activities.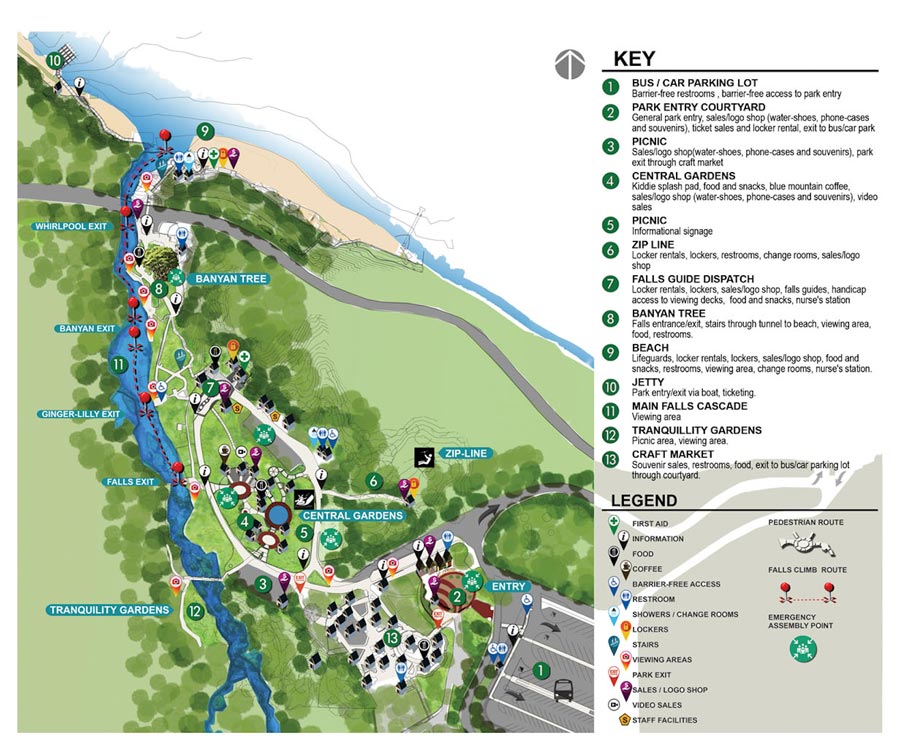 Tours to Dunns River Falls
Book a tour to Jamaica's Dunns River Falls and enjoy private roundtrip transportation from your hotel with a local guide. Admission and activity fees are included, as well as a stop at a restaurant for authentic Jamaican cuisine. Here are your options, depending on where you are staying:
From Montego Bay:
From Ocho Rios:
From Falmouth: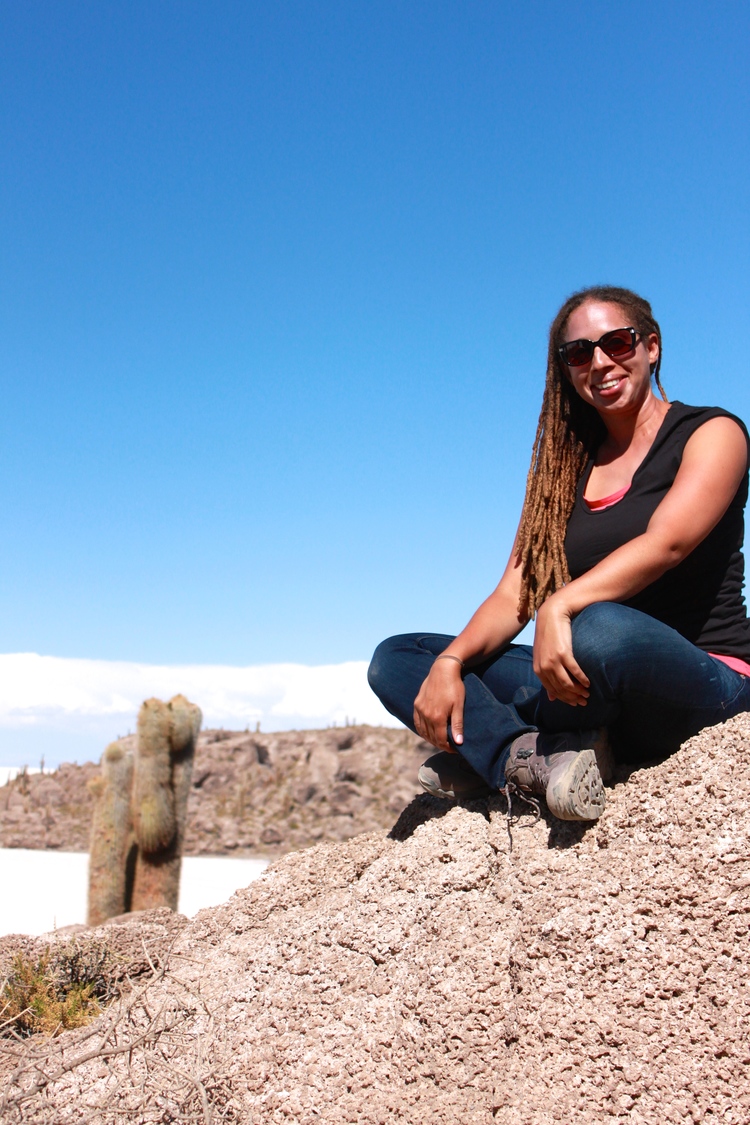 Cristal D
Local Writer, Global Traveler
Cristal Dyer was born in the Caribbean and has spent the last several decades travelling and writing, including several stints in Latin America. Currently based in Australia, she owns and operates her own travel site tofutraveler.com and is an expert travel writer, editor and photographer with a focus on solo budget travel and food tourism.