Guide to Jamaican Beaches
April 2, 2022 / updated March 13, 2023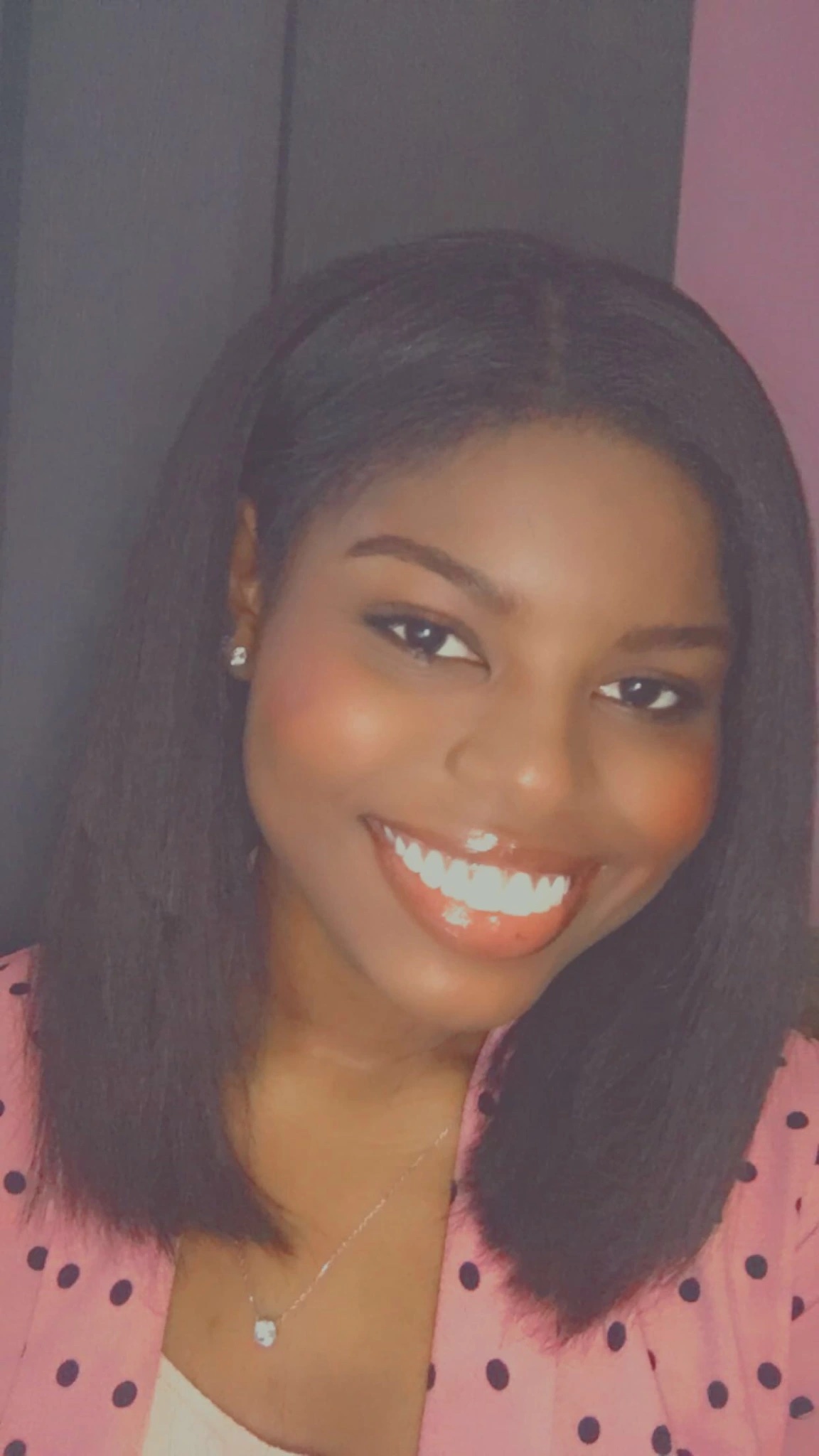 White sands, clear blue waters, soothing reggae jams and warm, friendly people. Does this sound familiar? If your answer is yes, we are thinking of the charming island of Jamaica. Jamaica is a vibrant Caribbean island nestled in the Caribbean Sea. Many of us will agree that Jamaica is both a dream destination and our idea of a tropical paradise. A trip to Jamaica is prone to have you bursting with excitement and anticipation. Before your trip, you may be daydreaming about all the world-class beaches you intend to visit. But with the dozens of options to choose from, it might feel a bit daunting. We're here to help you navigate the island's best beaches, so you're well prepared when the time comes to visit!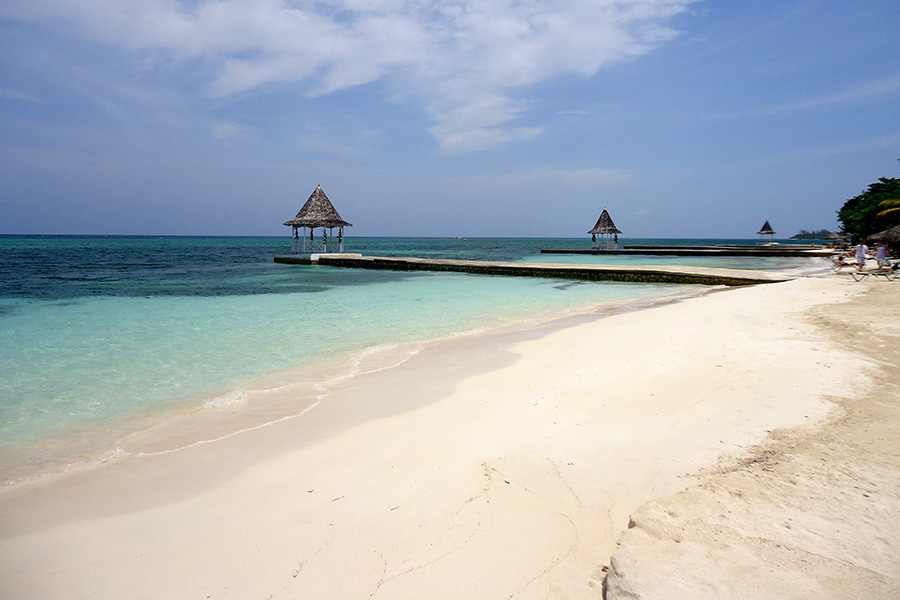 Why Jamaica's Beaches Are So Well-Known
When we hear of Jamaica, we envision the sea, sun and sand. Tropical heaven, so to speak. Jamaica is infamous for having some of the best beaches in the Caribbean and the world. Jamaica's beaches boast clear sands and sparkling blue waters. The island's best beaches also host great activities, food and music. These features enhance their aesthetic loveliness. You will often find a seafood restaurant, watersports, food or craft vendors, or a DJ playing music, all on the beach. Tourists predominantly visit Jamaica to experience a tropical escape. What better way to do so than on a world-class beach? Jamaica's beaches provide an outlet for well-needed relaxation. Jamaica's best beaches are also a hotspot for tourist weddings. Who doesn't dream of tying the knot while palm trees sway in the breeze and the sun shines down? Likewise, many newlyweds travel to Jamaica as it is the perfect honeymoon retreat. But Jamaica's beaches are not limited to romance and rest. Whether adventurous or laid back, there is bound to be a beach in Jamaica suited to your taste.
8 Best Beaches in Jamaica
Even though the island is small, it can take some time for you to get to beaches that are not in the area in which you are staying. You can always book a beach tour from where you are staying that includes roundtrip transportation. We have featured beaches from the North, West, East and South coast on the list below:
Seven Mile Beach (Negril, Westmoreland)
Seven Mile Beach tops the list as it is one of the island's most popular and most beautiful beaches. Set against the alluring backdrop of Jamaica's West Coast, Seven Mile Beach is one of Jamaica's most suitable beaches for beach hoppers. It is also an excellent option for those who want a "well rounded" beach experience. You will find this beach in Negril close to Norman Manley Boulevard. Norman Manley Boulevard is Negril's well-known hub for villas, restaurants and hotels. As the beach is public, access is also free.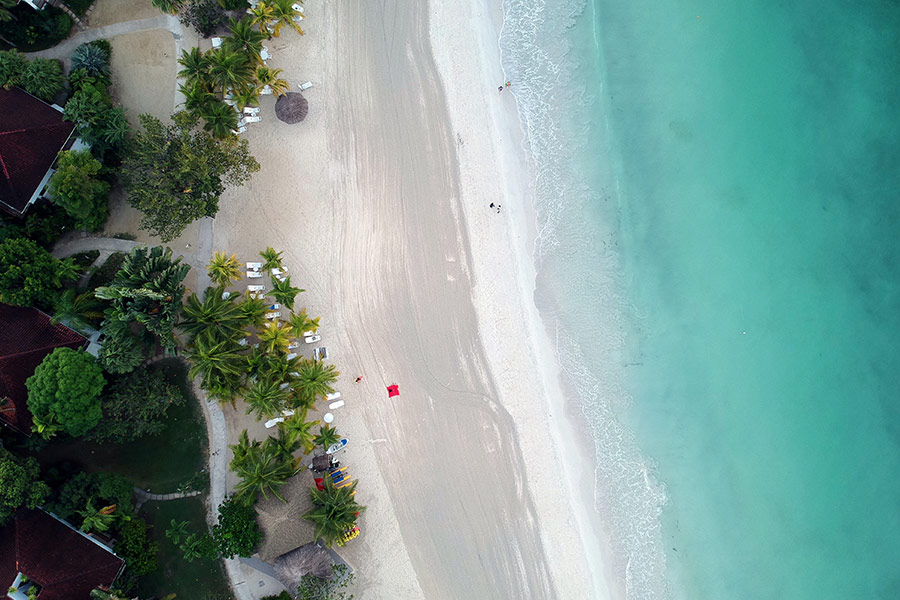 Seven Mile Beach thus takes the cake for accessibility. Are you planning to vacation in a comfy AirBnB or modern 5-star hotel? You will only be a few footsteps away from glorious white sand. The water on the beach is as clear as it is calm, and the beach is well known as a spot to behold breathtaking sunsets. If you are a fan of watersports, a visit to Seven Mile Beach will also provide many options of choice. Be it snorkeling, diving, sailing, kayaking, or scuba diving, to name a few. Food lover? Rest assured, you won't have to miss any meals at Seven Mile Beach as there are many food stops. Best in the west, Arthurs Beach Bar, Negril Tree House restaurant, amongst others. Seven Mile Beach is also ideal for various groups, be it larger families, friends, or couples. A bonus point is that the beach is quite large, so your group may end up having its own section. If you're traveling solo, even better! Ironically, Seven Mile Beach is only four miles long, with the other three miles extending into Bloody Bay Beach. This fun twist adds to the charm of this beach that has secured its spot amongst the best beaches of Jamaica.
Bloody Bay Beach (Negril, Westmoreland)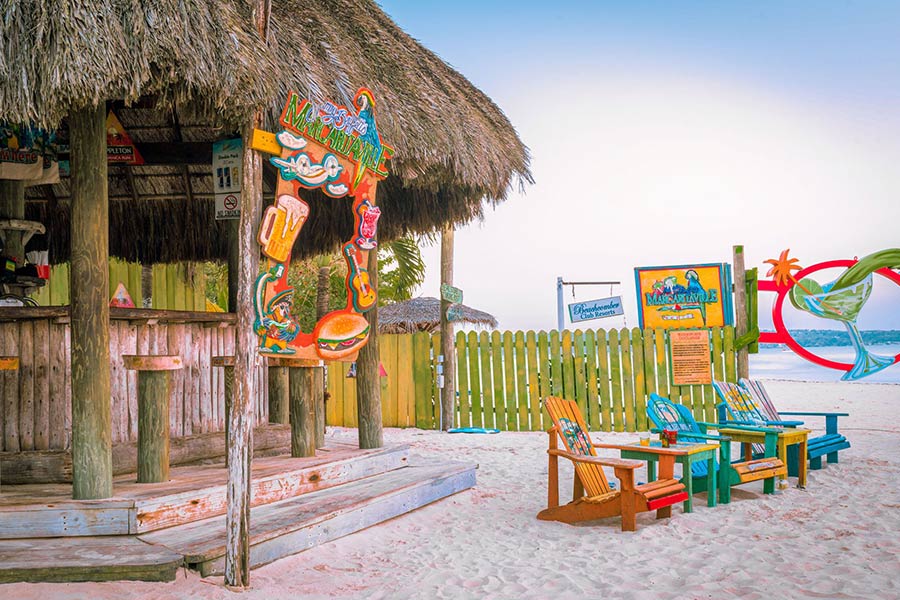 While its name might sound menacing, Bloody Bay is one of Jamaica's best beaches. Are you a lover of scuba diving and colorful coral reefs? What about the party scene? If you are, Bloody Bay Beach is worth a visit. Don't let the name trouble you, this beach is full of good vibes and offers a laid-back, clear-water, soft-sand piece of paradise. The beach is accessible from a range of resorts along Norman Manley Boulevard. Bloody Bay Beach has a myriad of featured aquatic life - a must-visit if you're a starfish lover. If you are a diver, this is one of the best beaches in Jamaica as the beach has colorful coral reefs and smooth waters. It's the perfect jumping off point for exciting scuba diving tour or catamaran cruises. If you are a lover of the party scene, Bloody Bay beach is also one of the best. The beach is popular for hosting lots of parties.
Discover beach tours from Negril
Treasure Beach (St. Elizabeth)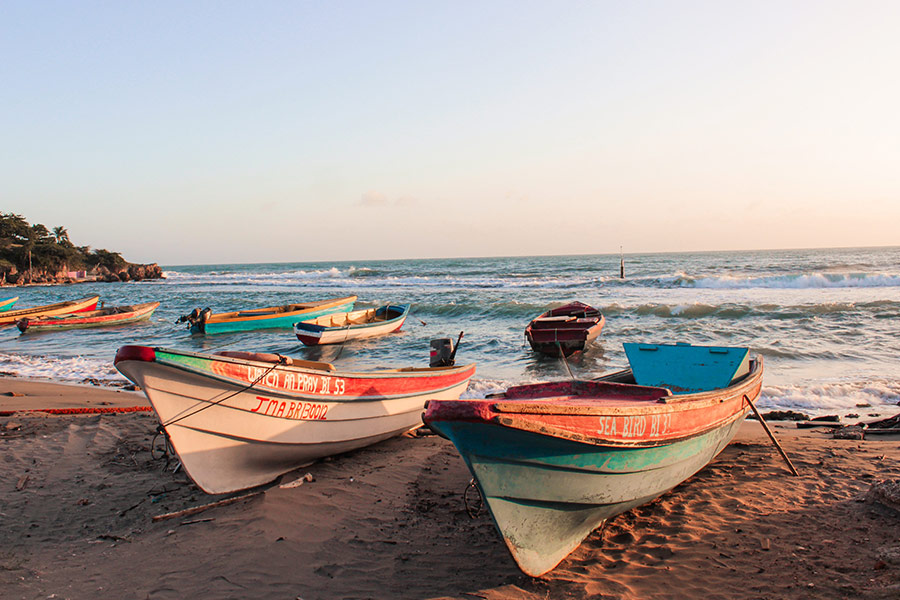 Are you in search of a quiet and secluded beach on the South Coast that's also immaculately clean? Treasure Beach is the best beach for you. You will find Treasure Beach in the "Bread Basket" parish of Jamaica; St. Elizabeth. As its name suggests, this beach is a treasure, featuring raked golden sand and idyllic waters. This beach is best accessed if you are staying at one of the major beachfront hotels in St. Elizabeth. It is a two and a half hour journey from Donald Sangster airport in Montego Bay, and two hours from Negril. If you're looking to relax, swim and lounge about while enjoying scenery then you should definitely give this beach a visit. Treasure Beach might not be our pick for watersports or partying, but it scores a ten for relaxation. Entry to Treasure Beach is free and as the beach is six miles long, you will have plenty of space to stretch your feet. Locals tend to often hang out on the beach, and are happy to engage in friendly conversation.
Winnifred Beach (Port Antonio, Portland)
Do you find bright blue waters and lots of green vineyards enticing? If so, Winnifred Beach in Fairy Hill, Portland, is perfect for you. Winnifred Beach is one of Jamaica's most charming beaches on the East, Jamaica's less traveled coast. This beach features dazzling blue waters falling against a backdrop of vines. One of the best parts of Winnifred Beach is though it's such a lovely stretch of fine sand and azure water, access is free. That's right, Winnifred Beach is completely open to the public. Yet, Winnifred Beach might not be the easiest to reach among its counterparts on this list. From Kingston, the drive to the beach is roughly three and a half hours. If you're already in Portland, that makes accessing the beach a lot easier. It is best to keep in mind that having access to a four-wheeled drive will help due to the roads being long and unpaved. Many locals are willing to direct you if you're in the area and are unsure how to get to the beach. Winnifred Beach is one of Jamaica's best beaches if you desire cultural authenticity. You are bound to find locals playing sports on the beach on the weekend, though weekdays tend to be much quieter. There are also many vendors preparing Jamaican delights nearby for your culinary pleasure.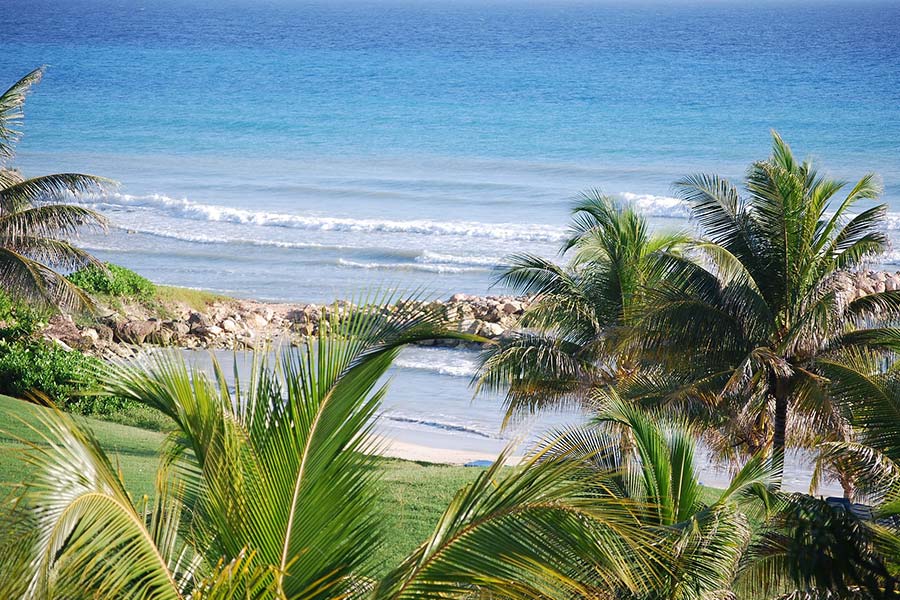 Frenchman's Cove (Port Antonio, Portland)
Just a 15 minute drive away from Winnifred Beach is the stunning Frenchman's Cove beach. The property has over 40 acres of beachfront, white sand, and crystal clear waters. Just in case you don't want to spend your entire day at the beach, for whatever reason, you can always spend some time in the actual cove where a river meets the Caribbean Sea. Frenchman's Cove is a photographer's dream. Imagine mountains of green stretching down from the sky to the white sandy beaches that are washed by the beautiful waters of the Caribbean Sea.
James Bond Beach (St. Mary)
As the name suggests, James Bond Beach is well-known for the beach scene in the James Bond movie 'Dr No'. James Bond Beach is set against a backdrop of moss-green mountains and offers an eye-catching turquoise sea and gleaming sands. You will find James Bond Beach on the small peninsula of Oracabessa, St. Mary, just about a 30-minute drive east from Dunn's River Falls in Ocho Rios. The beach is quite popular and goes by several names. Many locals know James Bond Beach as the Roaring River Beach and the Laughing Waters Beach. James Bond Beach is a little over a two-hour drive from Montego Bay and approximately an hour and thirty minutes from Kingston. There is a nominal fee to enter the Beach, providing access to both a port and seaside Beach. Additionally, James Bond Beach presents the luxury of a luscious lawn shaded by palms. The site also hosts jazz and reggae events. James Bond Beach is one of the best beaches to experience that unique blend of Jamaican flavor. A perfect blend of beauty and entertainment. Also, who doesn't want to brag that they've been to a beach with such an iconic name?
Puerto Seco Beach (Discovery Bay, St. Ann)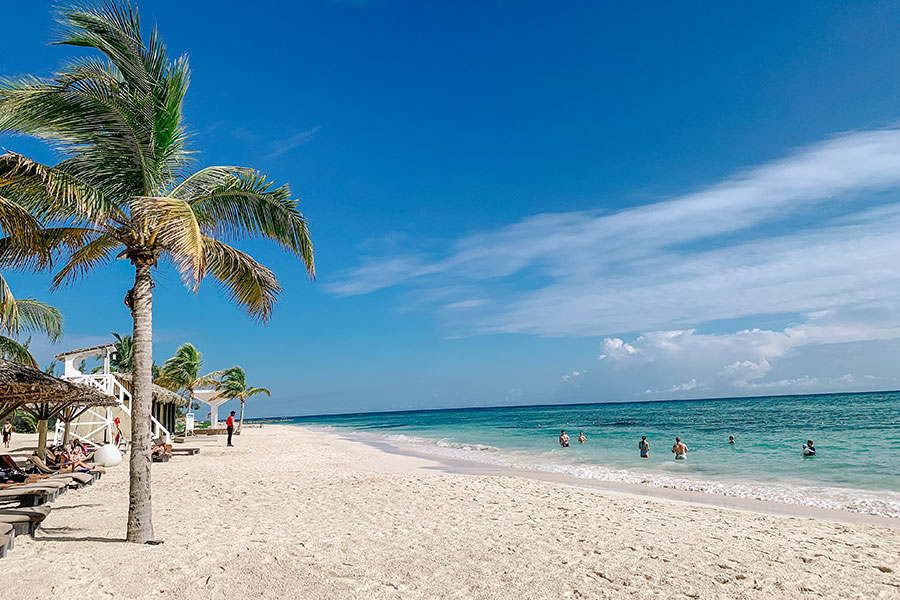 If you want to experience the beach with extra adventure and fun, this is one of the best beaches in Jamaica for you. You will find Puerto Seco Beach in the parish of St. Ann. It is approximately 40 minutes from the Montego Bay airport, 35 minutes from Ocho Rios and 25 minutes from the port of Falmouth. Puerto Seco Beach features an adventure park out on the water and is bound to have you going back. Watersports? Check. Want to relax under a cabana? Check. Dance with locals? Check. Puerto Seco features a pool, bars and restaurants. It is quite a lively location, with music generally playing. Puerto Seco Beach lives up to its promise of "Sea, Sun, Sand, Food, and Fun". Due to its fun-filled activities, Puerto Seco is the perfect beach for groups and families. There is an entry fee, but for what you'll get to experience, it's worth every penny. It is also a phenomenal option if you're looking to snap a pic of a magnificent sunset against the mountainside.
Ocho Rios Bay Beach (Turtle Beach)
Ocho Rios was once a small fishing village but is now one of the biggest tourists hubs on the island. The public Ocho Rios Bay Beach is quite close to an adventure park and it's the closest beach to cruise passengers arriving at the Ocho Rios port. Here's a video explaining how to walk to Turtle Beach from the Ocho Rios cruise port. If you're looking for a beach that is well suited for you and your kids, this is one of the best ones on the island. The water is shallow and warm for the kids to take part in almost any water activity that you want to get into. Even though there are a lot of people on this beach, the scenery is still quite amazing. On the beach, there are many trees including sea grapes, West Indian almonds, and of course coconut trees.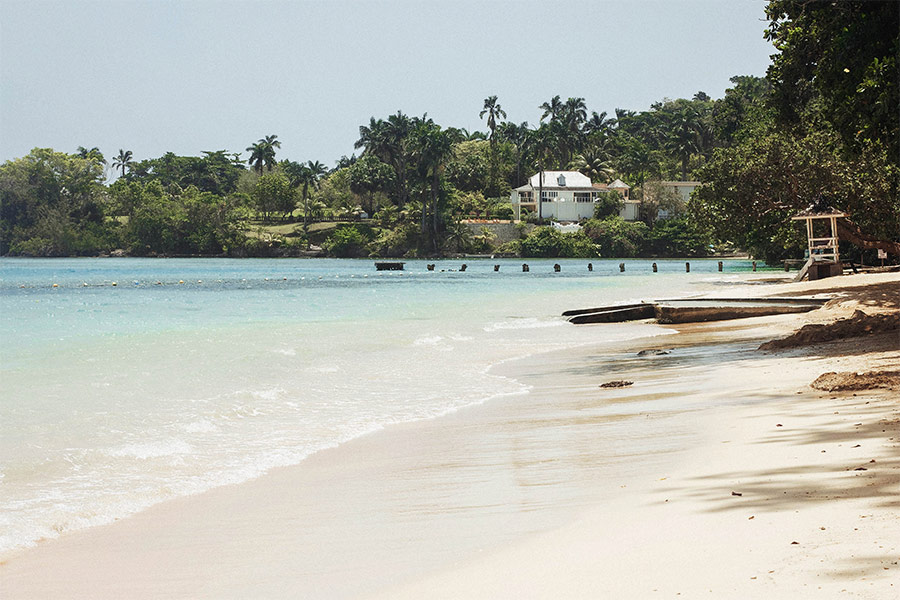 Book beach tours from Ocho Rios
What to pack for a Jamaica beach trip:
A trip to the beach is not complete without packing carefully. Here are a list of some items you should consider packing before a trip to one of Jamaica's best beaches:
Sunscreen
Sandals
Sunglasses
Bathing suit
Beach towels
A good book
Beach hat
Snacks
Water
Cash
Are There Nude & Clothing-Optional Beaches in Jamaica?
Jamaica is not the most liberated or open-minded country so there aren't any nude or clothing-optional beaches that are public. Don't be discouraged though, there are multiple resorts on the island you can stay at to experience a private nude beach.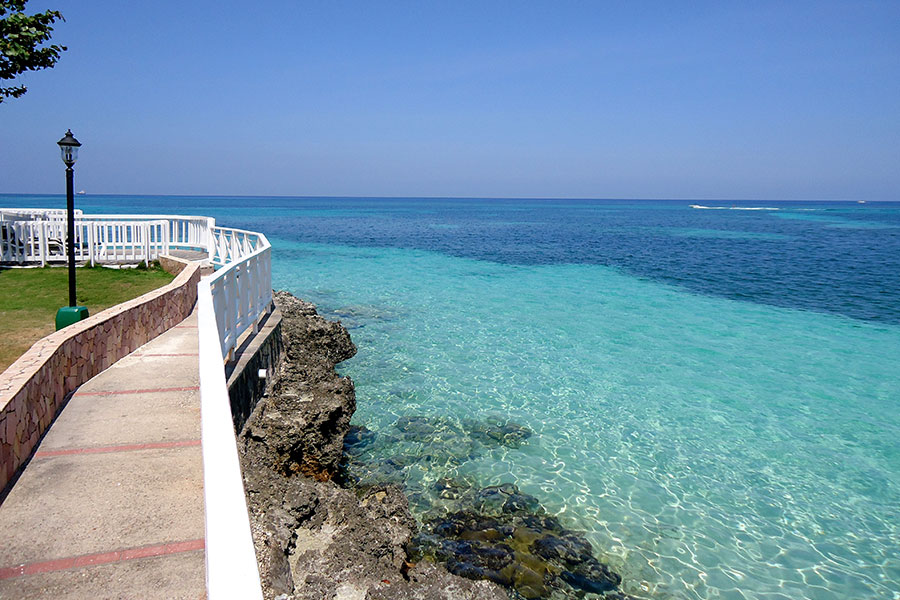 Hedonism II (Westmoreland)
On a quiet, private section of the Seven Mile Beach in Negril sits the beautiful Hedonism II all-inclusive resort. Just like many other world-renowned resorts, this is one that offers more than enough entertainment and amazing nightlife. Hedonism II is one of the first resorts on the island to have a clothing-optional beach which is one of the best beaches in Jamaica. The resort grants its guests access to two beaches, one clothing optional, and another which is the nude beach. The optional clothing beach is great if you are new to the world of nude beaches but want to test the waters. On the other hand, the nude beach highly encourages visitors to embrace their bareness and let it all show. The nude beach at Hedonism II has excellent amenities, including bars and restaurants, hot tubs, and pools.
Couples Negril
Couples Negril has a small semi-private nude beach area located just off the main beach. The nude beach area has a hot tub, private bathroom and a bocce ball. The beach is secluded from the rest of the resort by a row of hedges. This way, those who dare to go bare can do so in privacy.
Couples Tower Isle (Ocho Rios)
Couples Tower Isle has a private island featuring a pool with a swim-up bar that is open for nude sunbathing from 9am to 5pm daily.
Sunset Beach (Ocho Rios)
Sunset Beach at Couples San Souci in Ocho Rios is open for nude sunbathing from 9am - 5pm.
These beaches are intended for couples only, ie. not to be used by individual guests whose partner is unwilling or unable to participate.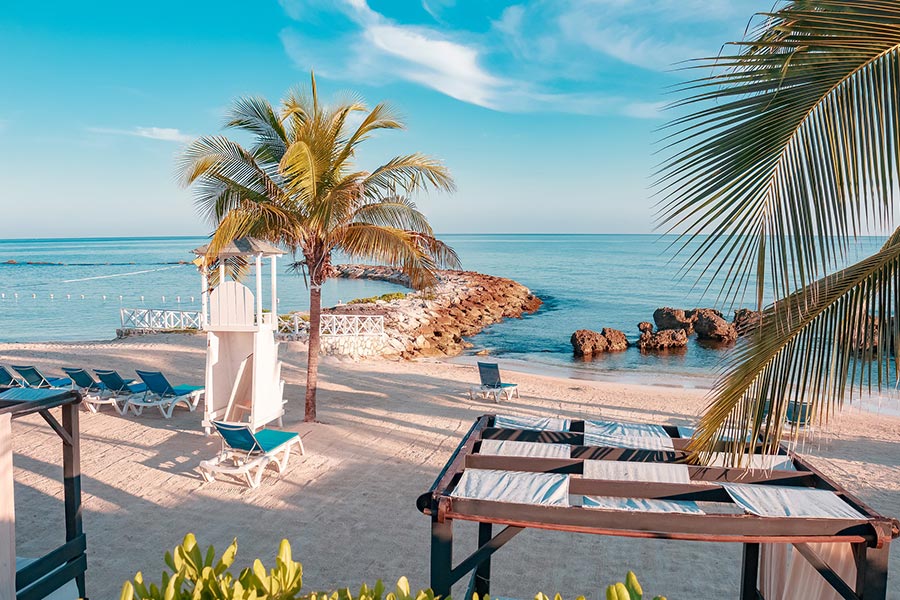 ---
There are many great beaches worldwide, and Jamaica hosts some of the best. We hope this list inspired you on the best beaches in Jamaica and that you've added a few to your bucket list!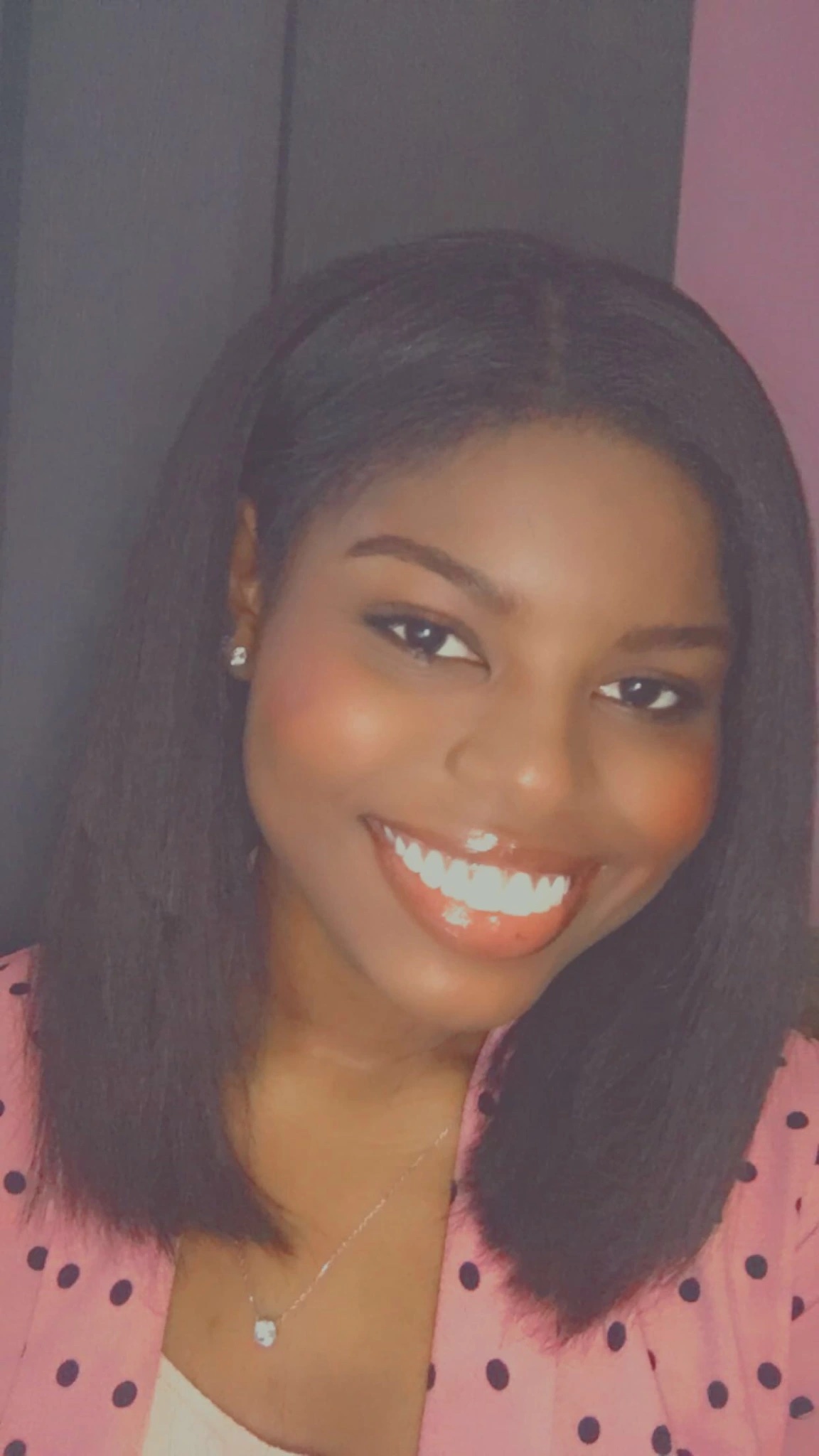 Toni W
Jamaican Adventurer, Writer
Toni Woodburn is an experienced travel writer and tourism industry professional who was born in the Caribbean and currently lives in Jamaica. Her local expertise in Jamaican culture and her experiences working with and creating content for tourism brands like Sandals and prominent Jamaican companies such as JMMB gives her unique insight into Caribbean culture and travel. She owns and operates her own travel website tonithinksthis.com.
The Best Beach Tours in Jamaica
Book a beach tour with roundtrip transportation from Ocho Rios, Montego Bay, Negril, Falmouth, Kingston, and Port Antonio
Helpful guides for your vacation in Jamaica
Discover the best things to do and easily plan your dream trip