Things to do in Negril
April 1, 2022 / updated March 13, 2023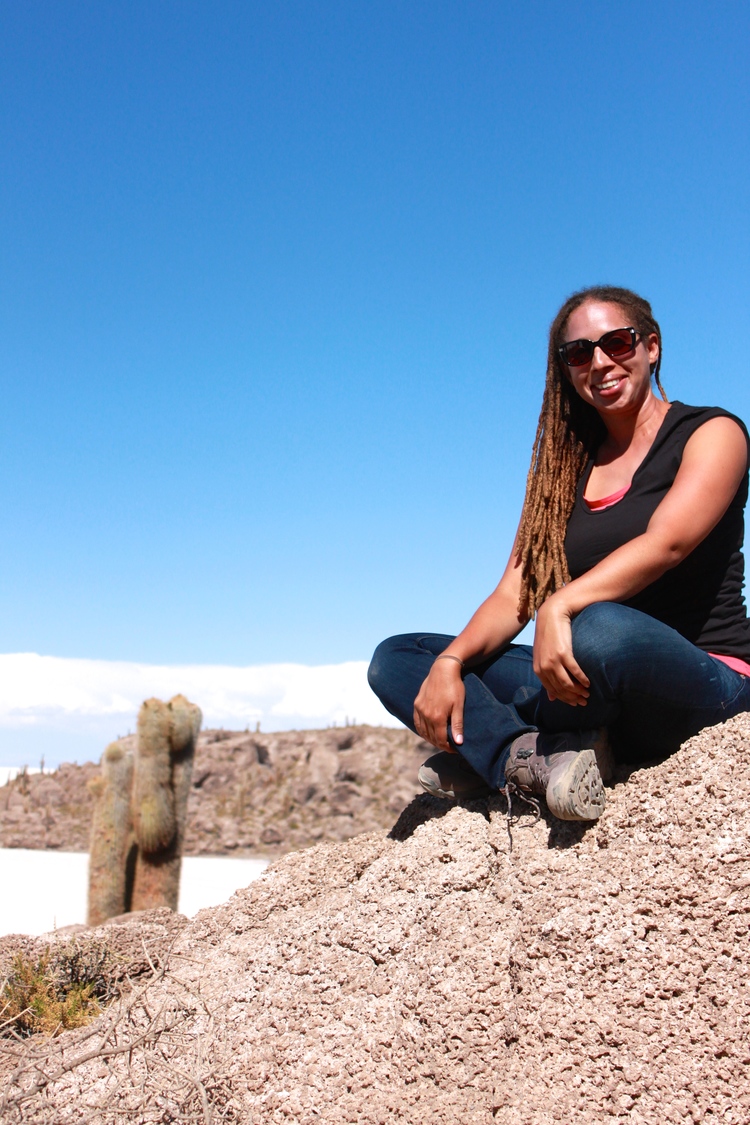 Negril started its life off as a sleepy fishing village but has since evolved into a vacation destination in its own right. Visitors can look forward to a more natural and relaxing side of Jamaica, with its fair share of adventure activities to keep things interesting.
If you're looking for things to do in Negril, Jamaica, we've got you covered. Find out all about what there is to do in Negril, whether you're after a reggae dance party on the beach or a cruise through the largest wetland area on the island.
What is Negril Known For?
This small resort town is most known for the miles of beautiful coastline filled with sandy beaches and shallow bays. Seven Mile Beach in particular draws visitors from all around the island but visitors to Negril and the nearby cruise port of Montego Bay get to enjoy this scenic part of Jamaica right on their doorstep.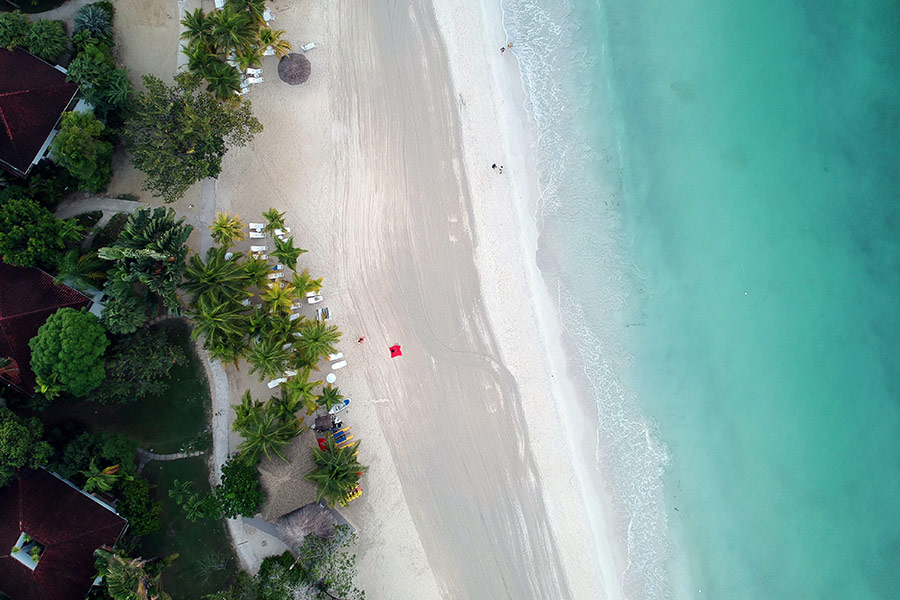 Not only does Negril have some of the best beaches in Jamaica but it's home to one of the best beaches in the world, Seven Mile Beach. Along with beautiful beaches, Negril is also host to several natural attractions that run the gamut from mineral springs to nature reserves. Find out the top things to do in Negril, Jamaica for nature lovers and beach bums alike below.
Seven Mile Beach encompasses several beaches found along the long stretch around Negril. Some fun in the sun activities you can look forward to here include parasailing, kayaking, and catamaran cruises. While most beaches along the stretch are worth a visit, there are a few that really stand out:
Bloody Bay Beach for soft white sand, very gentle tides, and snorkeling not far from shore
Margaritaville for a mix of entertainment and activities suitable for the whole family
Booby Cay for a taste of a day on a desert island
Bourbon Beach
Sure, you can listen to reggae anywhere in Jamaica but Bourbon Beach takes it to the next level. Think reggae artists, local bands, and themed parties happening almost on a nightly basis with the music going until the early hours of the morning. The sounds of reggae music set against lapping ocean waves really help make your vacation uniquely Jamaican and is one of our top things to do in Negril, Jamaica.
Little Bay Beach
Make a beeline for Little Bay Beach if you're looking for a beach that's off-the-beaten-track and away from the hustle and bustle of Negril. This small beach community is famous for being a hangout of Bob Marley and it's easy to see why. There are some nice beaches, friendly residents, and bars and restaurants serving up some local eats. While you're here, you can take a wander to find the remnants of Bob Marley's beach house and some unique water caves within walking distance.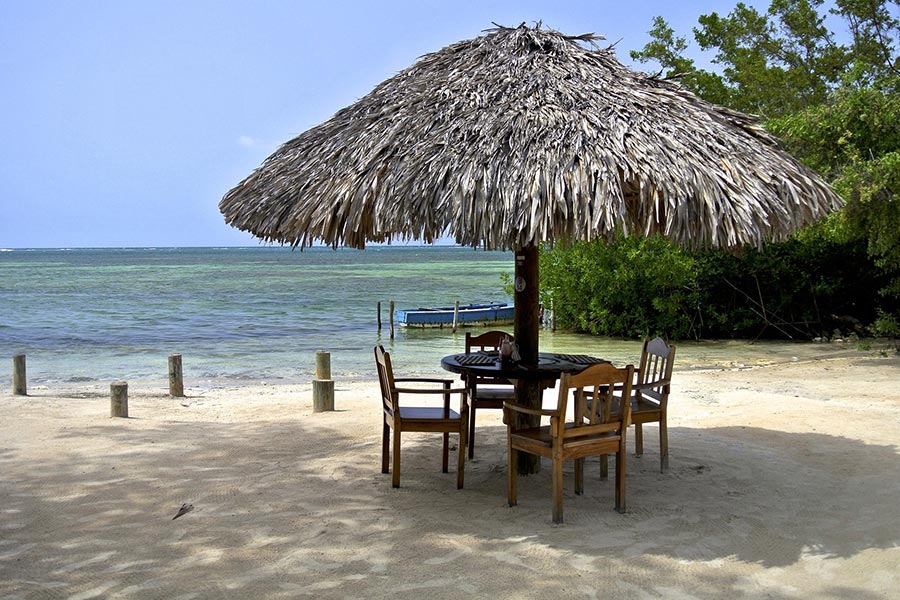 Blue Hole Mineral Spring
The Blue Hole Mineral Spring sits beneath a cavernous opening six miles southeast of Negril. When ​​you first peer inside, you'll discover a portal into paradise filled with sparkling turquoise water. Completely encased by Karst limestone, minerals act as a filter for the upwelling of water that leaves behind a pure bath of minerals for guests to enjoy.
If you're brave enough to take the leap, you can jump twenty-two feet below directly into the spring. For those who'd like to descend a bit slower, you can take the ladder leading in and out of the deep grotto. You can also take advantage of all those therapeutic minerals above ground thanks to the ground-level pool filled with the same minerals found inside the spring.
The Royal Palm Reserve
Nature enthusiasts will enjoy a visit to one of Jamaica's leading eco-tourism attractions. The Negril Royal Palm Reserve is a tranquil forest within the Negril Great Morass that's home to a stunning assortment of wetland fauna and flora spread across 300 acres.
You can take a guided tour through the morass swamp forest or take it all in from the 30ft observation tower offering expansive views over the mangroves below. Activities on offer include fishing, bird watching, and trail walks. Plus, if you're keen to dive into the local nature more, there's an on-site museum packed with interesting exhibits, memorabilia, and books.
Negril was known as a pirate destination throughout the early 1700s and some of the most bloodthirsty and infamous pirates of all time were actually arrested for piracy in Bloody Bay. Play your cards right and you might dig up some pirate booty on your visit. These days, its culture leans more towards the culinary and music side with a rich history in both traditional Caribbean dishes and reggae music.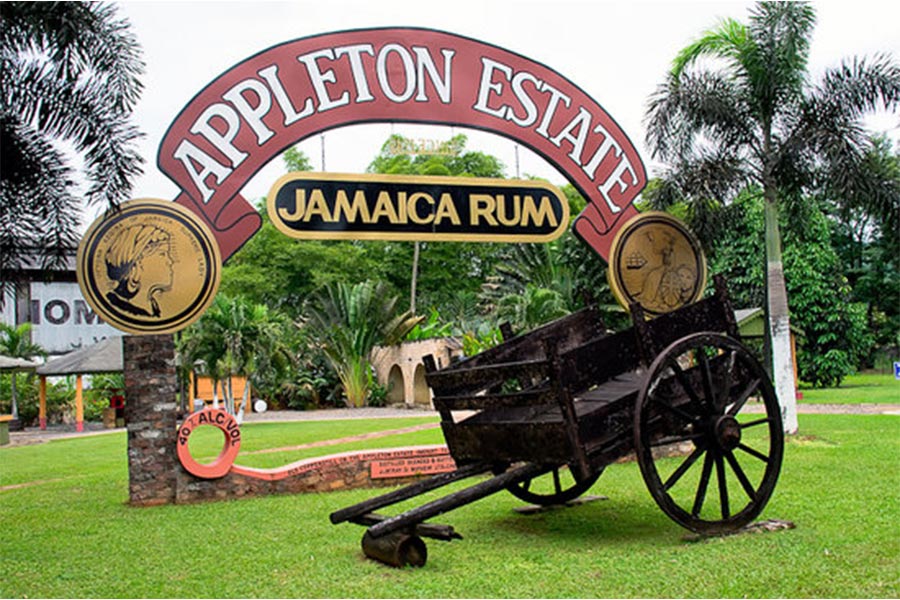 On this guided history tour you will learn about how the Spanish settlers introduced sugar cane cultivation to the island and how that was the beginning of Jamaica now producing some of the finest rum in the world. Go from the grounds where you can see the sugar cane growing to the distillery where you can learn about the centuries-old tradition of crafting Appleton Estate rum.
No tour will be complete without a taste of each byproduct of the sugar cane, including some refreshing sugarcane juice in the fields, premium aged rum in the tasting room, and delicious cocktails in the bar. As a bonus, the gift shop stocks the full range of Appleton Estate rums including some limited edition choices that would be difficult to find at home.
With an island as large as Jamaica's, it's tough to really indulge in all of the culinary delights on offer. If you're short on time or really want to dive into Negril's food culture, make sure to sign up for a food tasting tour. With a knowledgeable guide in tow, you'll get to sample local dishes such as curry goat, brown stew fish, and, of course, jerk chicken. Take your culinary tour a step further and try your hand at one of Negril's cooking classes.
Peter Tosh's Memorial
A beautiful short drive along the South Coast brings you to the fishing village of Belmont that's famous for being the home of Peter Tosh. Music aficionados will know him as the co-founder of the Wailers and one of the most renowned reggae artists in the world.
Fans can visit his burial site and chat with family members about Tosh's life but the main reason to visit is if you happen to be here for the annual Peter Tosh Birthday Bash in mid-October. The informal affair features a chance to mix with local reggae lovers and enjoy some grassroots live music played deep into the night.
8 Best Activities in Negril
While Negril certainly has a lot of culture and nature on offer, if you're looking for something a little more adventurous, we've got you sorted. These are some of the best things to do in Negril, Jamaica whether you're after a jungle hike to the island's lesser-known waterfalls or a seafood lunch in a restaurant only accessible by boat.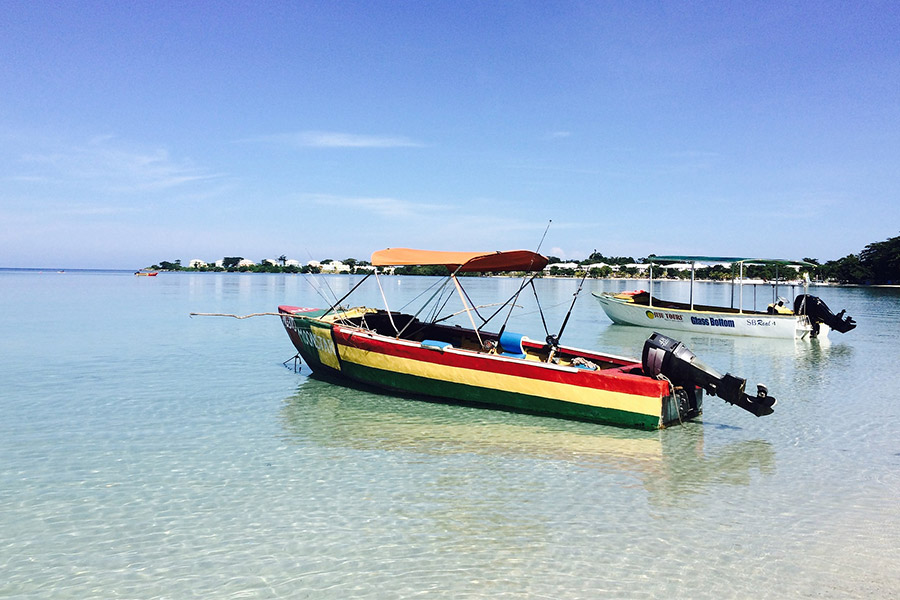 See more of the scenic South Coast with a boat tour up Jamaica's largest navigable river and through the largest wetland area on the island. Keep your eyes peeled for the wildlife as over 100 species of birds have been recorded here and crocodile sightings are common. Cruise past giant Red Mangrove trees with impressive stilt-like roots cascading from heights of over 40 feet down. If you're lucky, you'll get the chance to catch local fishermen in action as they catch fresh crabs in long, thin, traditional wooden canoes.
2) Mayfield Falls
About an hour's drive from Negril you'll find the spring-fed cascades of Mayfield Falls. A closer alternative to Dunns River Falls found on the other side of the island, Mayfield Falls has the benefit of being smaller, less commercialized, and much less crowded. The falls tumble below into 20 pools that provide a tranquil spot to soak under the rush of water. This one's a bit more of an adventure because you'll need to hike for an hour or so to get to the falls and wade through the river.
3) Reggae Marathon
Jamaica is the birthplace of some world-class sprinters but for more of a leisurely pace, Negril's Reggae Marathon is worth considering. One of the most unique things to do in Negril, Jamaica is to join locals and tourists alike in a music-filled marathon where DJs and live bands keep participants' spirits up along the route. The event starts with a pasta party the night before and ends with a beach bash for all the finishers right on Negril's Seven Mile Beach.
4) Kool Runnings Adventure Park
If you've got kids in tow or you're looking for some water action away from Negril's coastline, Kool Runnings Adventure Park is your best choice. The largest waterpark in Jamaica hosts a large variety of water activities including ten waterslides, a lazy river, and a wave pool. Along with plenty of opportunities to get wet, this adventure park also has go-kart racing, laser tag, and paintball. Make sure to have a taste of the park's famous Licky Licky Jerk Chicken at the Sweet Potato Grill.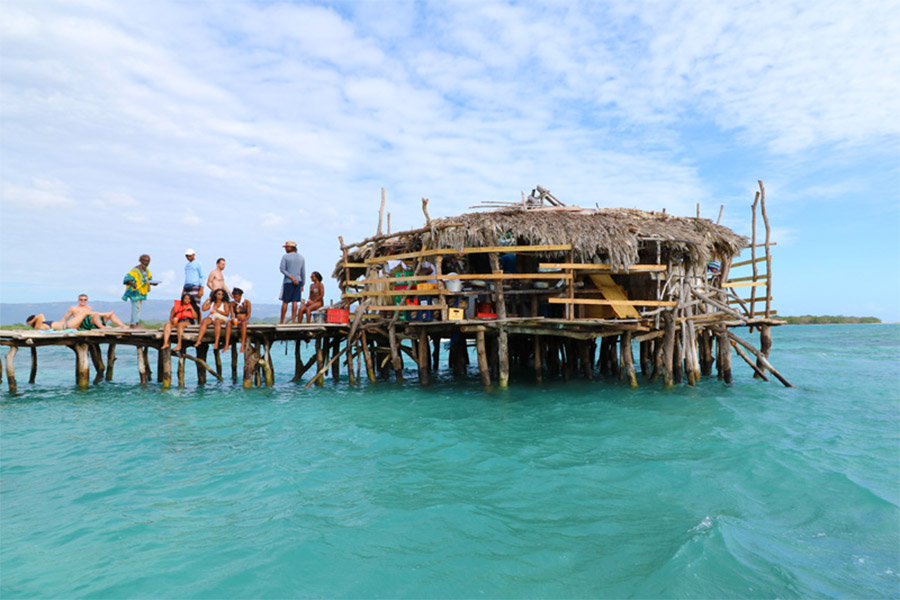 Try to find Negril's famous Floyd's Pelican Bar on a map and you might be left scratching your head. This tiny bar made of driftwood is actually found about ¾ mile out in the sea. Stilted on a huge sandbar, Floyd's Pelican Bar is undoubtedly one of the most unique things to do in Negril, Jamaica, and possibly one of the most unique places to grab a bite in the world.
Getting there is half the fun as you need to take a 20-minute boat ride. Once you're there, you can swim in the shallow ocean water, sunbathe, and have a cold drink. If you're up for some fresh fish or lobster, make sure to order food ahead of time so you don't miss out.
6) Scuba Diving and Snorkeling
Negril is a veritable divers' paradise thanks to its clear and calm waters. The nearby dive sites feature planes, tugboats, and reefs filled with marine life that include soldierfish, reef sharks, and several species of pufferfish.
Snorkelers won't miss out because many of Negril's reefs are very shallow. You won't have to swim too far before you spot schools of fish, swarms of jellyfish, and a sea bed that's covered in an array of conch shells, urchins, and sea fans.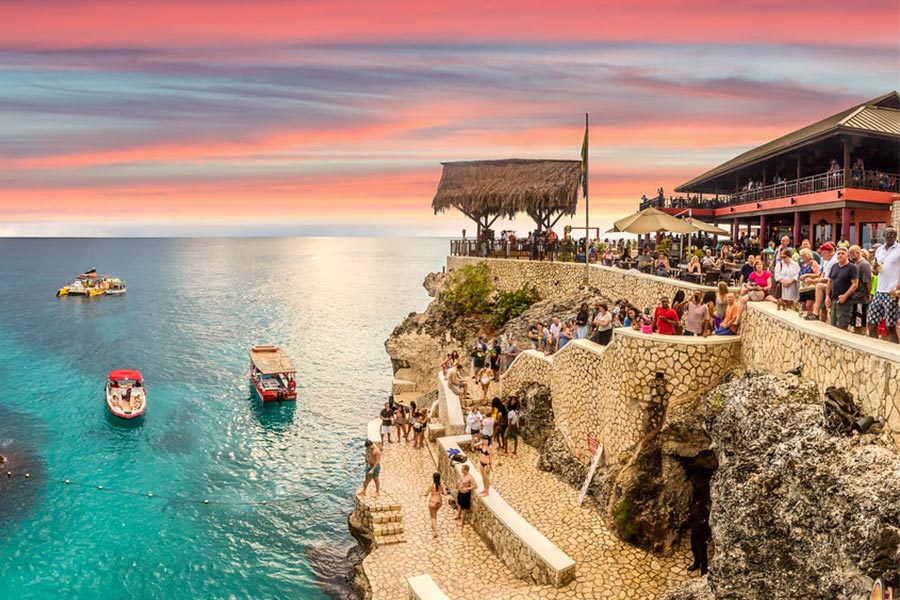 What's a cafe doing on a list of things to do in Negril, Jamaica? While Rick's Cafe does offer an unrivaled view of the sunset from the naturally formed West End Cliffs, many come to see divers leap from the 50-foot cliff.
If you're feeling brave, you can attempt something a bit less intense. There are also diving boards positioned at 10ft, 25ft, and 35ft and for those who are feeling uneasy at the thought, you can access the sea via stairs carved into the cliff or simply enjoy the live entertainment on offer with some of the best views in Negril.
No visit to Jamaica's scenic South Coast is complete without a stop at one of the island's most beautiful and spectacular waterfalls. YS Falls is nestled in a secluded valley on a working cattle and horse farm. Here you'll find a magnificent 7-tiered cascading waterfall set deep in the hills complete with an expansive wading pool fed by underground springs.
Once you've had your fill of relaxing in the cool mineral pools, you can up the ante with a ride on the ziplines which take you high above the falls. As a top tip, you can book a tour that includes a visit to the YS Falls and a stop at Floyd's Pelican Bar for a seafood lunch. A great way to fit in some of the best things to do in Negril, Jamaica all in one day.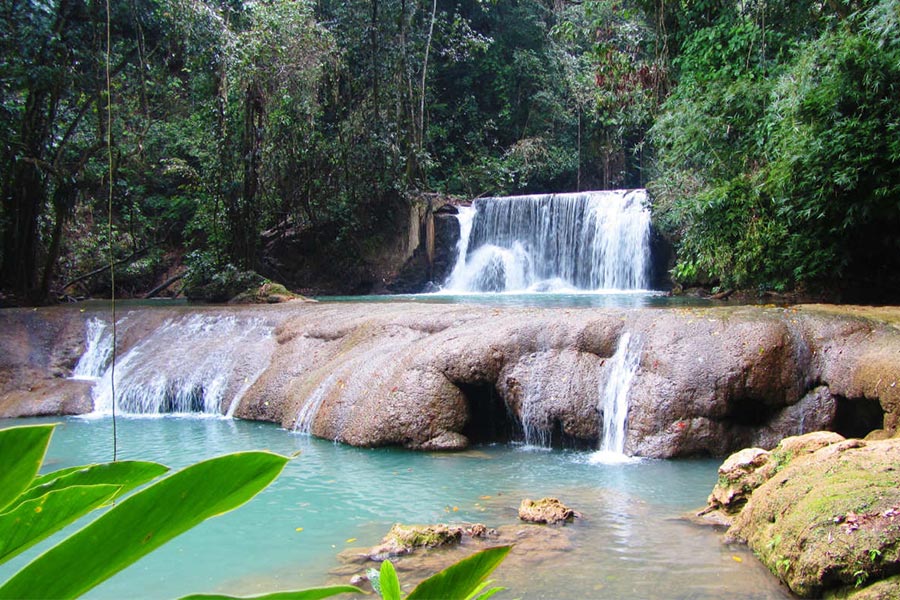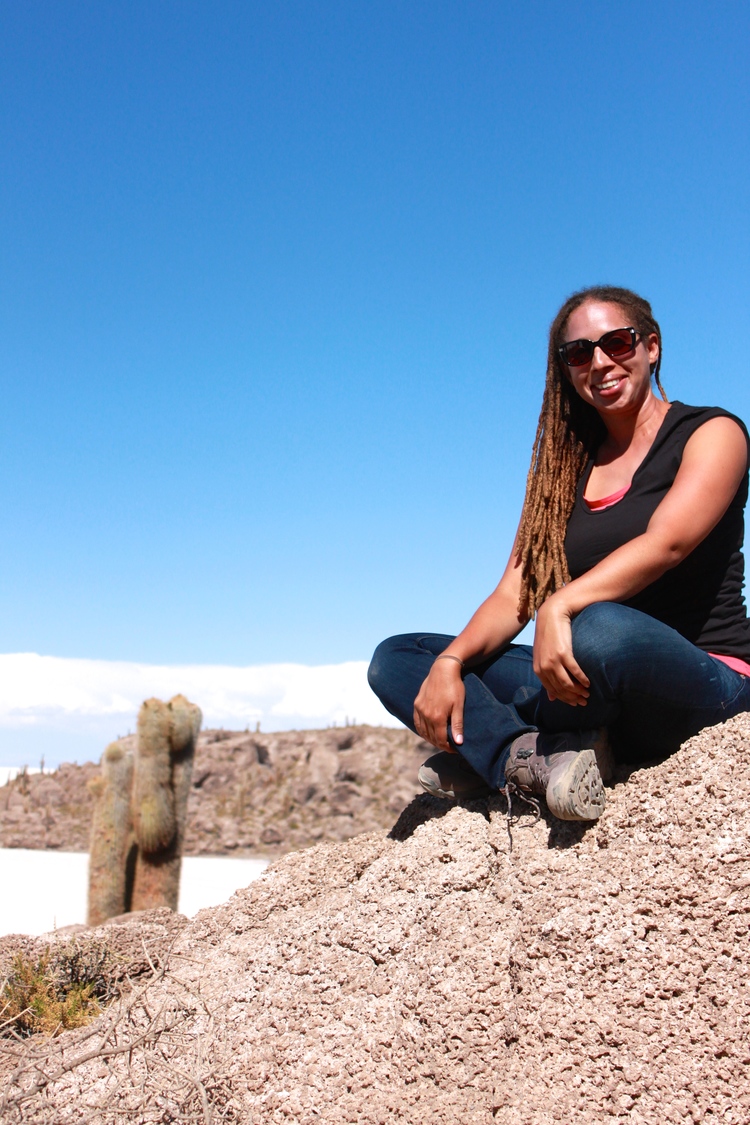 Cristal D
Local Writer, Global Traveler
Cristal Dyer was born in the Caribbean and has spent the last several decades travelling and writing, including several stints in Latin America. Currently based in Australia, she owns and operates her own travel site tofutraveler.com and is an expert travel writer, editor and photographer with a focus on solo budget travel and food tourism.