Jamaica for Couples
April 1, 2022 / updated March 13, 2023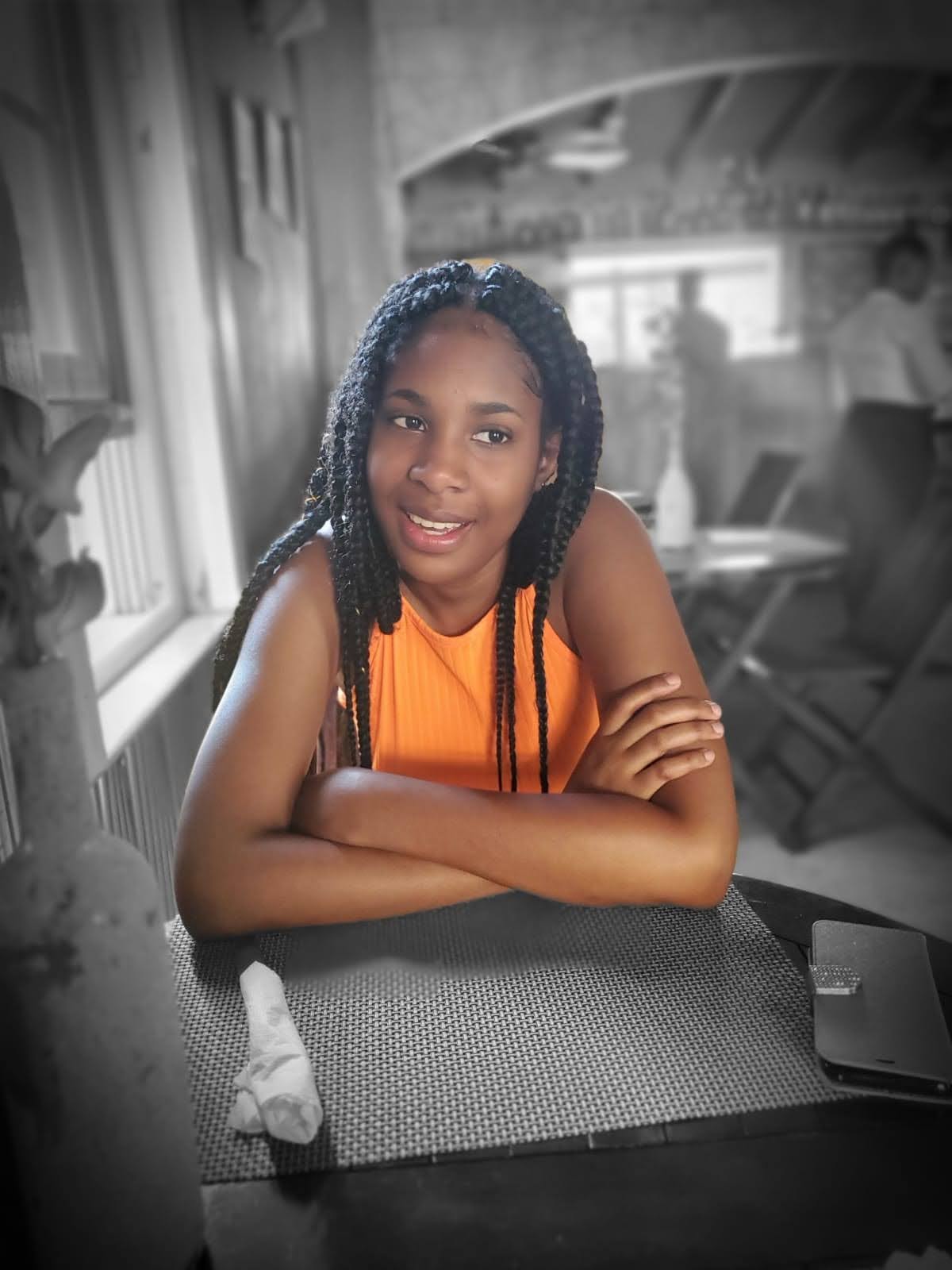 According to the books and movies that we hate to love, there's nothing more romantic than going on a trip to a beautiful place with the one you love. You can choose to lay back, and get pampered at a resort, or go exploring and have new experiences with your lover.
Going on a Jamaica honeymoon is the perfect way to consummate your marriage and make beautiful memories. Jamaica is also a great place to learn how to put the spice back into your relationship, and get your groove back.
Jamaica for Lovers: Our Guide to Honeymoons and Romantic Getaways in Jamaica
Jamaica has something for everyone.
Jamaica is a perfect getaway for those looking to get away from the hustle and bustle of everyday life and just relax. It's also where a lot of people find purpose and learn how to enjoy the life they live.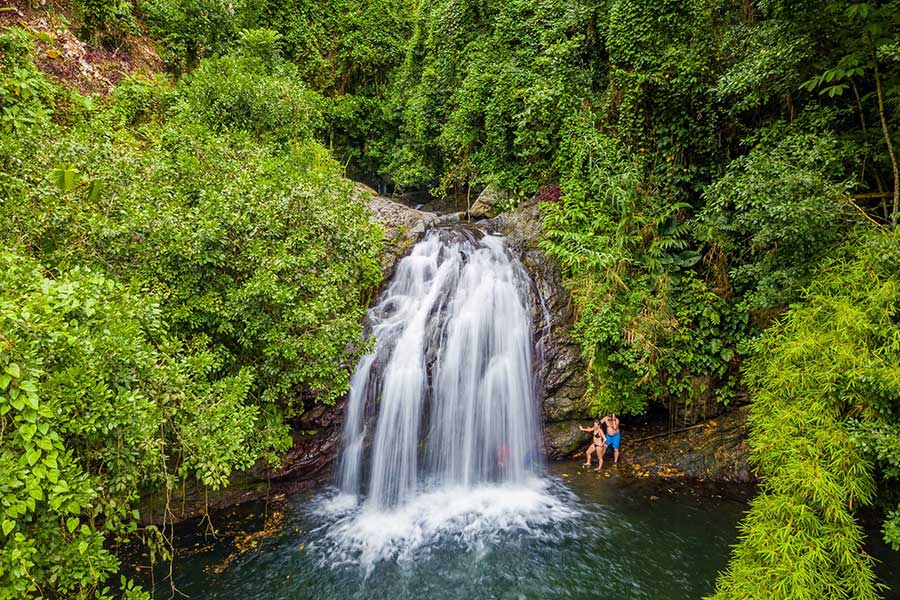 On an island so in touch with Mother Nature, her beauty, and her fruits, Jamaica reminds us to slow down and appreciate the things we have. When in Jamaica, nothing else matters but the joy of being in love and embracing everything that comes with it.
What Makes Jamaica Such a Popular Destination for Romance
Jamaica is an island paradise. Unironically, somewhere to live, love and laugh. What better place to share these feelings with the one you love?
Here's why you should take a Jamaica honeymoon or romantic getaway:
The beauty of the island
Jamaica is a gorgeous island. Its name comes from a native Taino word, Xaymaca, which means "land of wood and water". It is an island nation rich in biodiversity that you don't have to travel too far to see.
Though Jamaica has developed cities, there's no hiding from Mother Nature on this island. In the distance, you can see rolling hills, lush vegetation, and unspoiled skylines. Whether you want to stick to the coastline or go further inland, the island's natural beauty is forever evident.
It's surprisingly affordable
A lot of people shy away from taking vacations because they think it's way out of their budget. Besides looking at these things as once-in-a-lifetime opportunities, think about the exchange rate.
Sure, staying at a luxury hotel in North America can run a couple of thousand dollars, but when you convert what you'd pay in Jamaica, the difference is very evident.
1 US Dollar amounts to at least $150 Jamaica Dollars. Your dollar will stretch a very long way and you'll realize that there are a ton of options available for every budget need. It also depends on what type of traveler you are. If you don't mind shacking up in a beach-side hostel, you can save a ton of money and get a fulfilling experience. But, if you want to travel in luxury, you can still access the same amenities at a fraction of the cost.
There's lots to do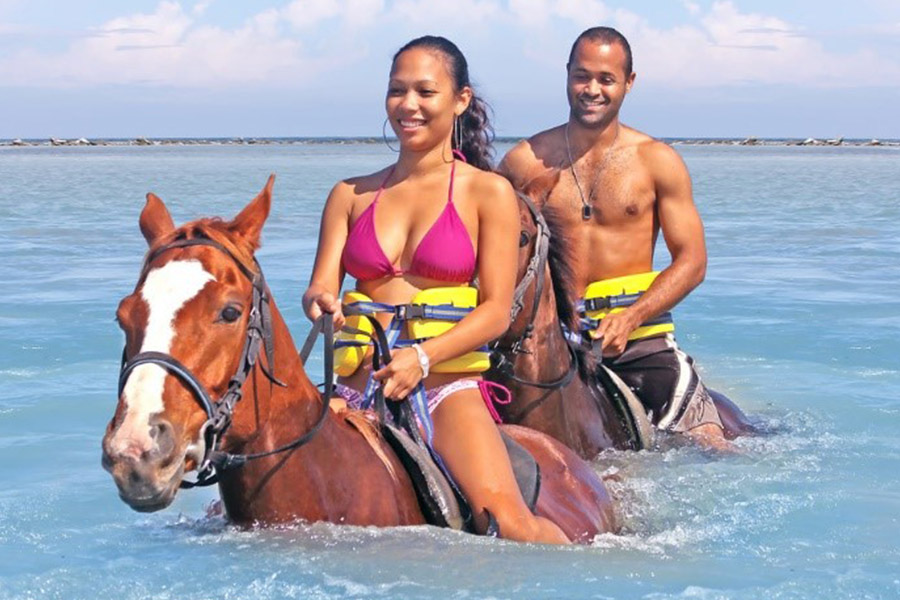 Even though Jamaica is considered a small island, there's no shortage of things to do.
Laid-back visitors can enjoy tanning under the sun and wading in the warm Caribbean sea. They can enjoy an assortment of local food and international cuisine at fine dining spots, and treat themselves to spa days at the many resorts and wellness centers on the island.
Visitors who come for ecotourism can go for hikes in the infamous Blue Mountains or go rafting or river tubing in cool waters. They may enjoy adventure tours and excursions and hit the beach for sea sport.
There's always room for romance in Jamaica, and if you want, there are actual rooms dedicated to this purpose. The picturesque views can serve as backdrops for romantic dinners and picnics, and when the sun goes down, the nightlife scene gets the adrenaline pumping for play with your lover, and if you want, friends.
Understanding Jamaica's Weather and the Best Times for a Romantic Visit or Honeymoon in Jamaica
Jamaica has pleasant weather. It's not too hot, not too cold, and fairly predictable. Since the hurricane season spans the summer and fall months, the best time to plan your Jamaica honeymoon is from the drier months from December to April. This is also peak season, so if you're sure about it, book ahead.
The rainiest time of the year in Jamaica is during May and October, so don't go planning a beachside wedding around this time.
Check out our guide to Jamaica's weather
5 Most Romantic Hotels & Resorts for Honeymoons & Getaways
Jamaican hotels are world-renowned for their hospitality and are an excellent choice in where to go in Jamaica for a honeymoon. Here are 5 of the most romantic hotels and resorts for you and your other half:
1. Sandals Royal Caribbean
Everyone loves a good family vacation, but this time, when you leave the kids at home, you won't be seeing any at your adults-only Sandals hotel.
The Sandals hotel chain was born in Jamaica and quickly spread throughout the rest of the Caribbean. Today, there are six sandals resorts on the island, and all of them are among the best places to visit in Jamaica for couples.
The most romantic of the six is easily Sandals Royal Caribbean in Montego Bay which features a private offshore island along with over-the-water bungalows that you can have all to yourself. The food and liquor flow all day, and there are tons of stuff to do on the property if you don't plan to stay shacked up the entire time.
Sandals Royal Caribbean is also home to 9 world-class restaurants, more than enough for every day of the week, and is just a stone's throw from the airport and all the festivities of Montego Bay.
2. Half Moon
With two miles of access to the hotel's pristine beachfront, an equestrian center, and an 18-hole par-72 championship golf course, Half Moon offers the ultimate luxury experience for couples seeking a romantic getaway. The resort even has an award-winning oasis spa, perfect for getting pampered like a King and Queen during your stay. This may very well be your answer on where to go in Jamaica for honeymoon.
3. Hedonism II
It's time for the adults to frolic and you don't have to hold back at Hedonism II in Negril. If you're looking for something a bit more risque, the nude beach, non-judgment playroom, and themed nights can't be beaten.
This resort is for couples who are willing to take a dip, or even a big splash, on the wild and adventurous side. The best part is, you do it at your own pace.
4. Trident Hotel
If you want a getaway that's out of the way of tourists, you can find it at Trident Hotel in Portland. It's where all the celebrities and dignitaries go when they want to be lowkey in Jamaica, and still have access to all the amenities that make the trip worth it.
The hotel features 13 ocean-front villas that are a nod to early Jamaican tourism, with the bells and whistles that bring it into the modern era. From here, you can venture to other secluded and romantic spots like Blue Lagoon, Frenchman's Cove, and the Rio Grande river.
5. Round Hill Hotel and Villas
You can find the Round Hill Hotel and Villas nestled on a 110-acre peninsula west of the city of Montego Bay. It's another popular spot for the island's elite, A-list celebrities, and big shots. This is the place to be if you want to live the high life, and enjoy the intimacy and privacy other big chains don't offer.
This is where Stella got her groove back, and you can too. Ralph Lauren himself designed these rooms.
5 Beautiful Natural Locations in Jamaica to Explore as a Couple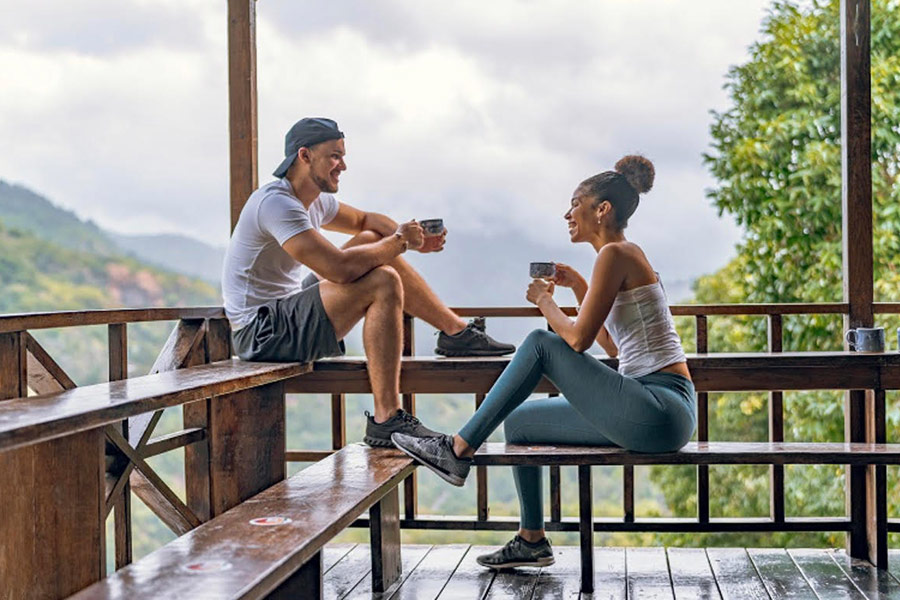 When you're done exploring your resort during your Jamaica honeymoon, it's time to explore the island together. There are some spots you simply have to go to be able to say you had the full Jamaican experience.
Here are some of the best places to visit in Jamaica for couples:
1. The Caves, Negril
Take your dining experience to another level among pink bougainvillea petals and gorgeous white candles to set the ultimate romantic tone for your jamaica honeymoon. Seated in secluded caves with the backdrop of the vast blue Caribbean sea, your five-course meal will be a once-in-a-lifetime experience.
Let the sounds of soft music and the ocean be the catalyst for a night of passion, romance, and a good time.
2. Lovers Leap, St. Elizabeth
If you feel like the journey to your relationship and happiness has been rough, you'll feel a special connection with this location. It is here two runaway slaves decided to leap off the breathtaking cliff to their deaths to avoid being separated by their master.
At 1700 feet above sea level, the views, the food, and the company are all you'll need.
3. Catamaran Cruise from Montego Bay/Ocho Rios
Itching to hit the high seas? How about a Catamaran Cruise from Montego Bay or Ocho Rios? The destination is just as good as the journey, and you can be dropped off at another tourist hotspot to enjoy other activities, or have some fun at sea, snorkeling, fishing, or looking out at the vast expanse.
4. River rafting on the Martha Brae
River rafting in Jamaica is a perfect Instagram moment for your friends and family back home and is another great way to enjoy your romantic getaway in Jamaica.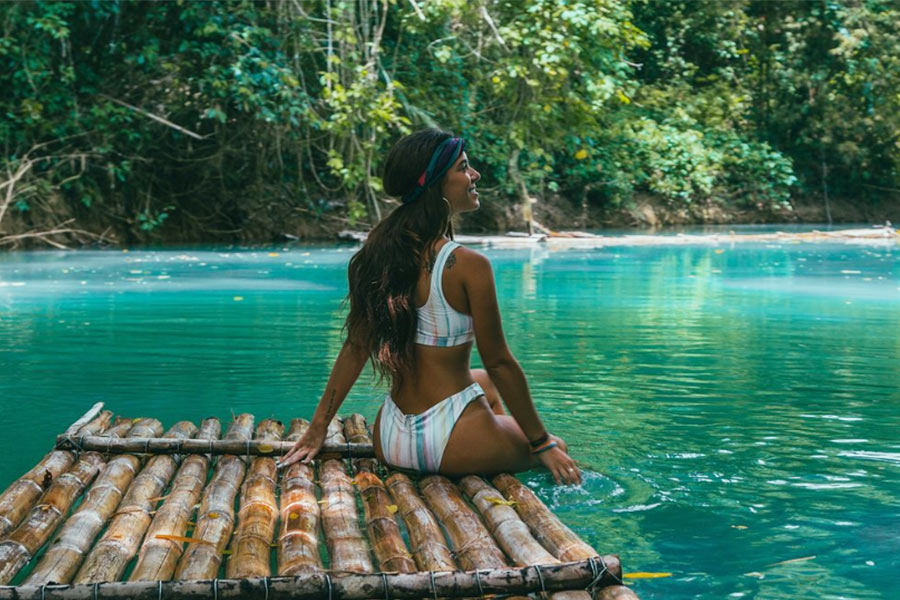 The river is about 40 miles away from Ocho Rios, and 20 miles from Montego Bay, with a scenic route to pass the time. Once there, you will be welcomed by one of many licensed captains for an hour-long journey on the popular three-mile stretch of river.
At the end of the journey, you can lounge in the area and embrace the local culture, or engage in other river-based activities like swimming or tubing.
5. Konoko Falls, St. Ann
Slow things down with a romantic picnic in the gardens of Konoko Falls. It's entirely up to you if you want to climb the falls or explore the bird aviary with your partner.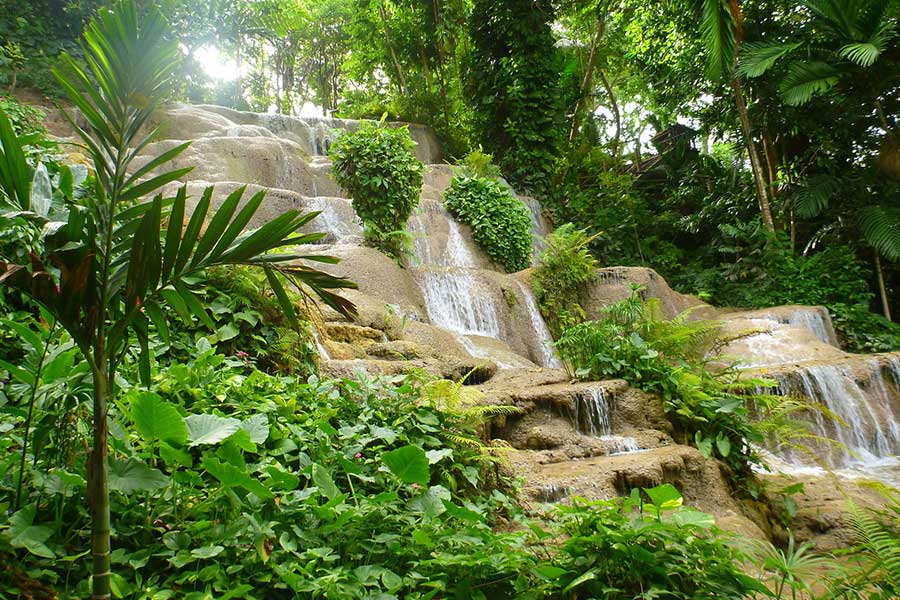 The botanical gardens are enough to make you feel one with your partner, the now-extinct native tribes who called it home, and the Earth.
Bonding Activities to do in Jamaica with Your Partner
Bonding activities are an important part of any successful relationship. You must learn to work together, communicate effectively, and most importantly, have fun.
Some of the best places to visit in Jamaica for Couples are activity-based and can bring you closer together.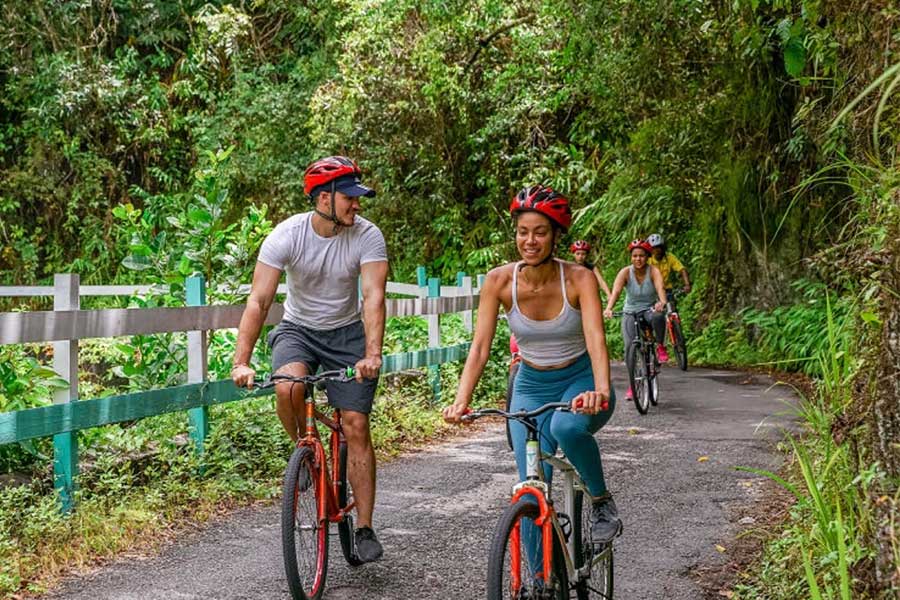 Hiking and biking is a great way to get in shape with your partner and have meaningful discussions without the distractions of the outside world. Follow the trail made by others to the peak of the Blue Mountain to enjoy scenic views from the highest point on the island. The adrenaline rush and excitement of completing this milestone together will mean more for your relationship than you'll ever know. There are over 200 species of birds in these mountains and plants native to the island that you won't find anywhere else in Jamaica!
Dunns River Falls is a top tourist attraction in Jamaica, and for good reason. It sits right by the coast and empties its contents directly into the Caribbean Sea. There are climbs throughout the day, as long as the park is open, so you'll never miss your chance to make the ascent.
It is a relatively easy climb, despite the slippery rocks, and you will be guided by professionals who do this multiple times a day. They will even take snapshots of you while you make your climb, and will cheer you on as you and your partner reach the finish line.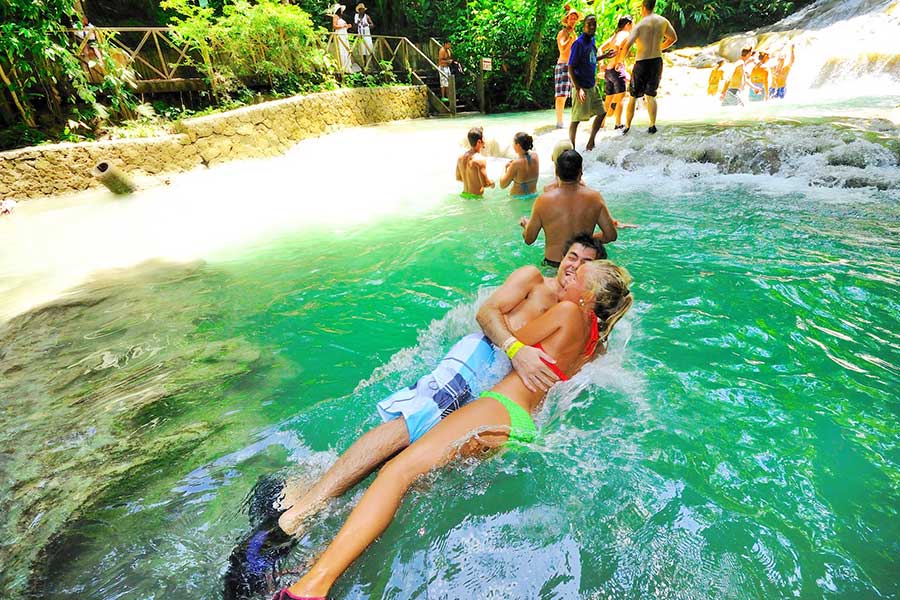 Check out our Dunn's River Falls guide
Paragliding at Skyline Drive, Kingston
Unlike the lovers at Lover's Leap, you can take that leap of faith and make the ultimate show of love and trust by paragliding with your partner. The instructors will take you through all protocols and engage in tandem flights until you're both ready to take it on together.
You won't find a long line here to take part in this activity since it is relatively new on the island, but consider yourselves a part of history in the making! How many couples can say they went paragliding, A, and B, in Jamaica!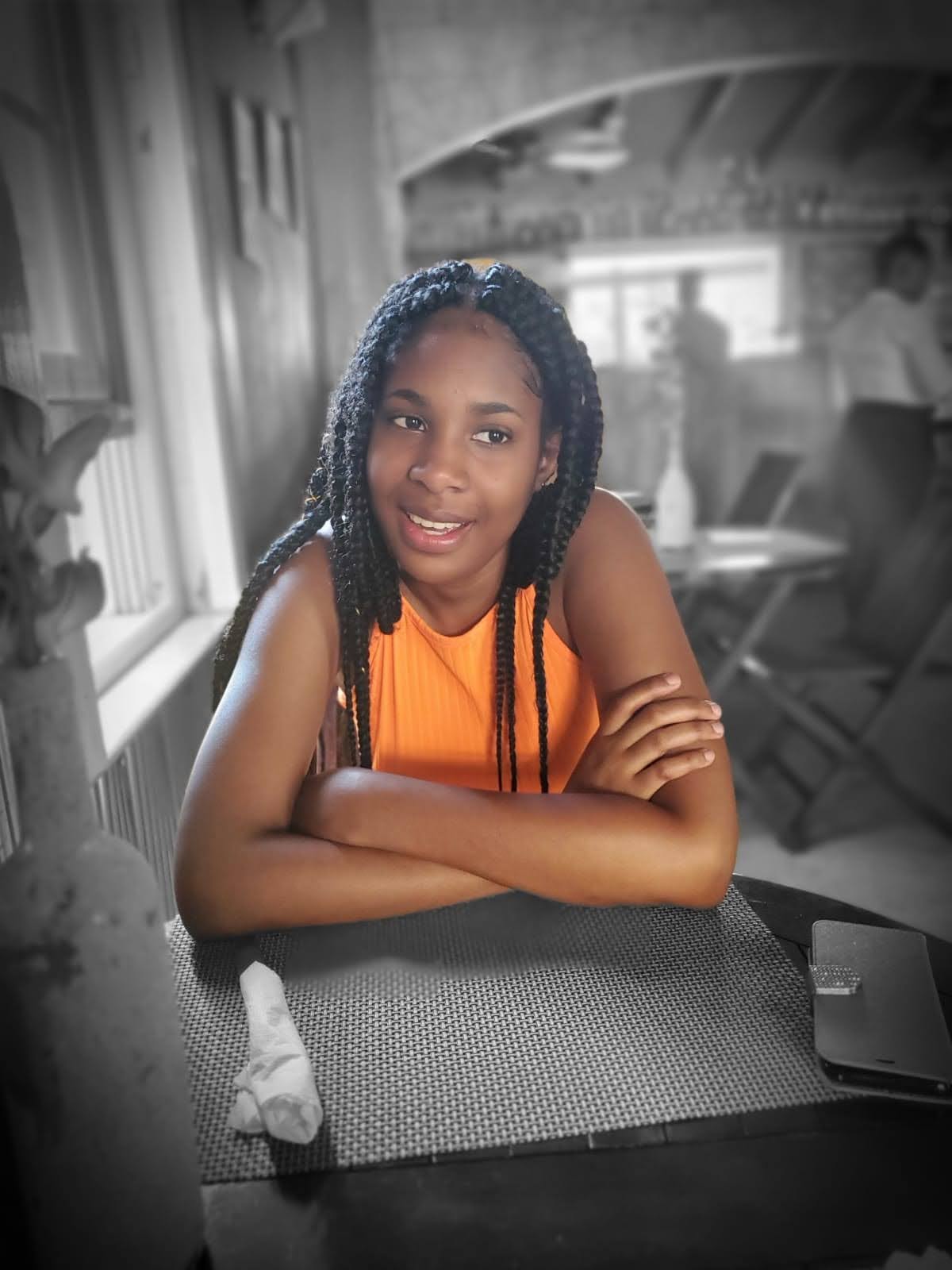 Khadéjah L
Jamaican Adventurer, Writer
Khadejah Lambert is a Jamaican travel and tourism writer who uses her local expertise in Jamaican culture and economics to help travelers better understand and navigate Jamaica. She has written for The Massive Jamaica and provided travel writing, editing, and digital strategy guidance for a variety of Jamaican brands and travel outlets.