Things to do in Ocho Rios
April 1, 2022 / updated March 13, 2023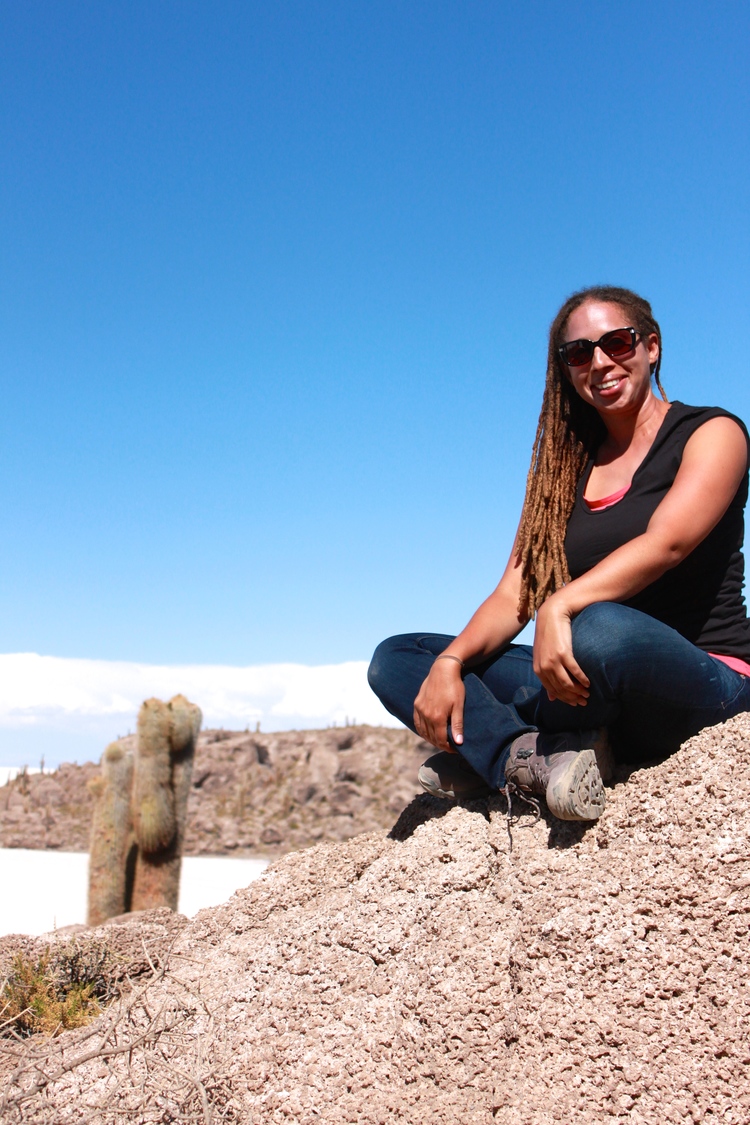 Chasing waterfalls, rafting rivers, and rainforest adventures. A visit to Ocho Rios, Jamaica is all about getting out into nature whether you just want to soak in the history and culture or experience something a little more extreme. We've compiled the top 15 things to do in Ocho Rios that should satisfy all the culture vultures, beach bums, and adrenaline junkies, along with a few choice additions that you won't find in your guidebook.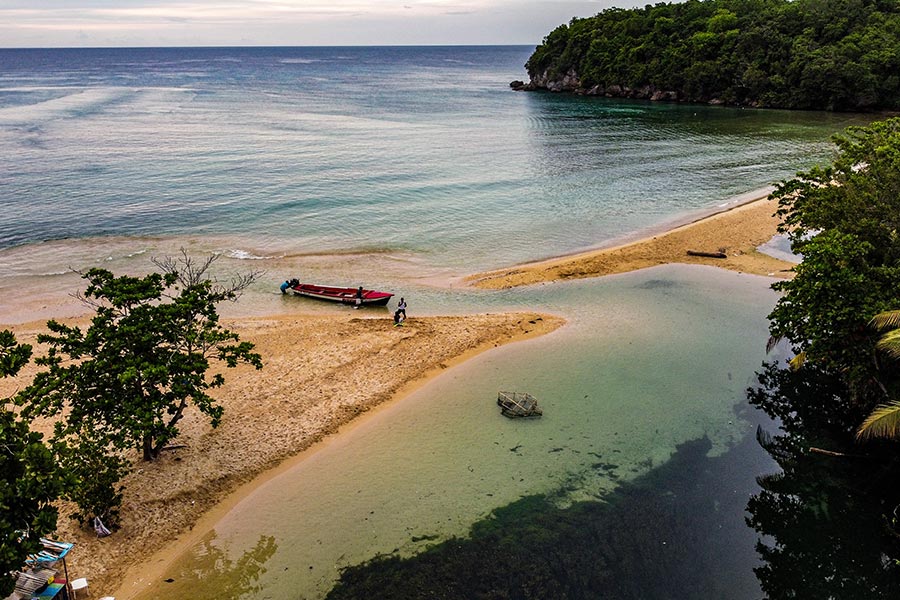 What is Ocho Rios known for?
While there are certainly beaches to enjoy, "Ochi," as the locals call it, is known for its lovely waterfalls, lazy rivers, and luxuriant gardens. It's quieter than Montego Bay but not as laid back as Negril making it a happy medium for visitors looking for easy access to the many surrounding natural attractions.
For when you're craving some sun, sand, and sea, you can't look past a day at the beach. Fortunately, Ocho Rios not only has some movie-worthy beaches but also some natural attractions where you can soak up the sun while getting amongst nature.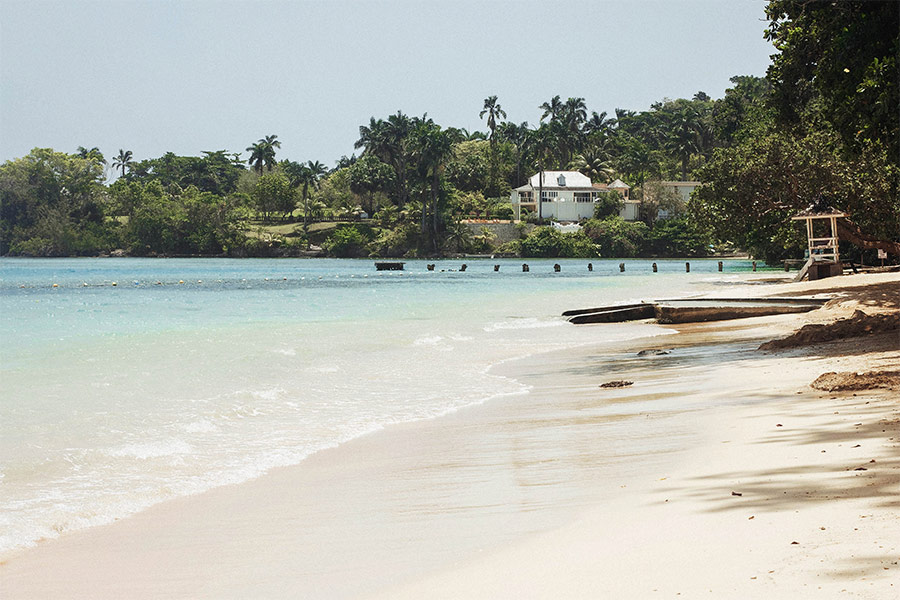 Ocho Rios Bay Beach
Stake a spot in the sand at this perfectly manicured beach that you'll swear you've seen on a postcard. This buzzing stretch of coast is not exactly where you'd go for total relaxation but what it lacks in peace and quiet, it makes up for it with a full roster of activities and amenities on a picture-perfect beach backdrop.
Grab a bite to eat at one of the restaurants lining this stretch (we like Reggae Kitchen and Lounge) and when you're ready for something more active, you can book banana boat rides, parasailing, tubing, and snorkeling equipment at one of the beach huts.
As a bonus, this popular stretch of coast is just a two-minute walk from the Ocho Rios cruise port.
James Bond Beach
Turquoise blue waters are framed against the backdrop of the hills above the town at this movie-worthy location. James Bond Beach is named due to its location neighboring the Goldeneye property where Ian Fleming penned his famous 007 books. The beach has also been featured in the Bond film Dr. No. While visiting you can indulge in fresh lobster and fish that's brought in daily by local fishermen and prepared for you right on the beach.
The Blue Hole
What used to be a local secret, is slowly becoming a popular natural attraction. The Blue Hole is one of the top things to do in Ocho Rios if you're after an off-the-beaten-track experience in nature. This series of picturesque jungle pools in the lush mountains are about a 25-minute drive from Ocho Rios.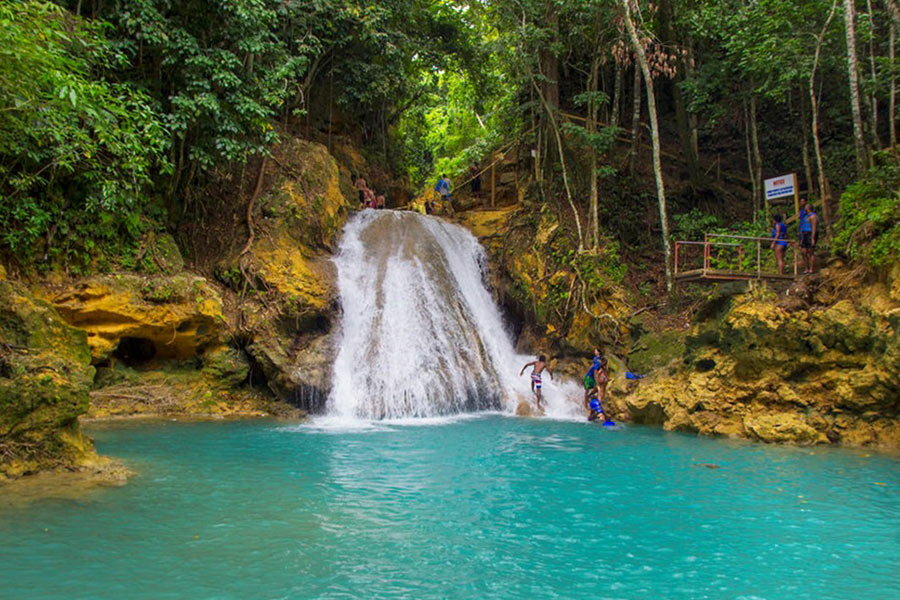 There are several vantage points at a variety of heights so the view gets better the higher you're willing to hike up. If you're daring enough to clamber over some slick rocks, you can play Tarzan on the rope swings and jump into the turquoise water.
Shaw Park Botanical Gardens
Sitting high on a hilltop overlooking the city, you'll find one of the top things to do in Ocho Rios for any nature lover. You can stroll through lush botanical gardens set amongst 25-acres punctuated by lily-topped ponds and tropical blooms.
Along with the many species of birds, you can find flitting around the grounds, you might be able to spot Jamaica's national bird, the doctor bird. A waterfall and river cascade through the gardens making this an ideal spot to escape the heat and chaos of downtown Ocho Rios. Guides can be found on-site or the garden can be visited on an Ocho Rios Highlights tour with transportation included.
Ocho Rios has a rich history that starts with the Tainos, an Arawak Indian tribe, who settled here in 1,000 BCE, through to today where you can still catch glimpses of the past through Ocho Rios' unique culture. Here are some of the best things to do in Ocho Rios if you're keen to dive into what makes the area so unique.
It's tough to have a list of things to do in Ocho Rios without mentioning the home of the late, great Bob Marley. Whether you're a fan of his music or just taken in with the cultural revolution that's seen his unique philosophy spread around the world, the Bob Marley Museum is a must-visit.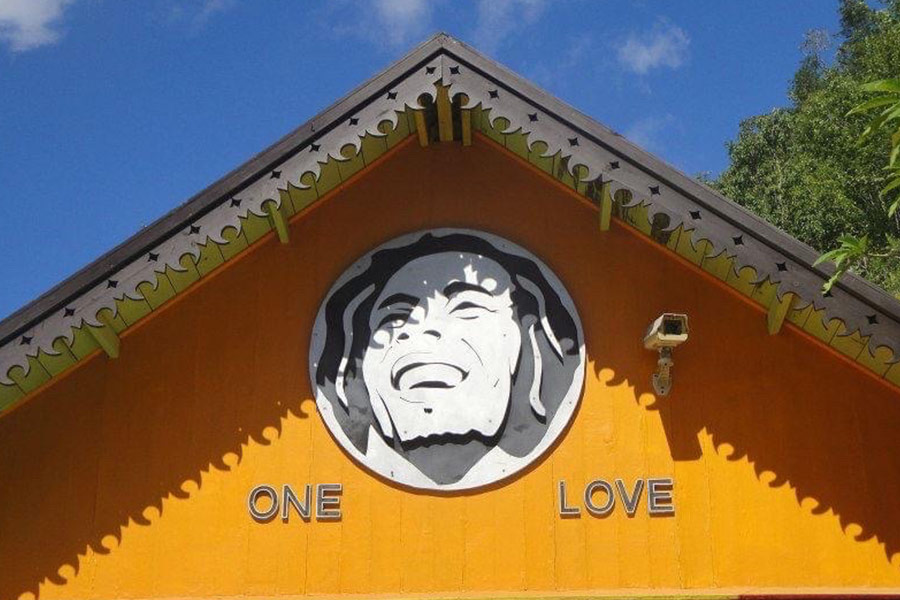 The home is found in the small village of Nine Mile, about an hour's drive from Ocho Rios. Guided tours are available to take you through his childhood home, the small museum, and the mausoleum where Marley is buried. You'll hear interesting stories of Marley's extraordinary life, learn some little-known insights into the meaning behind some of his famous songs, and learn about the Rastafari religion he followed.
Firefly
Firefly became the second Jamaican home of playwright Sir Noel Coward when his first property became too popular with his visiting celebrity friends. The simple one-bedroom home was built high on a hill as a hideaway retreat to afford him the peace he needed to continue writing.
You can see the home on a guided tour along with his photos, paintings, and pianos which are all still in place. The home is also found on the site of a former lookout for pirate Henry Morgan so along with learning about Coward's life, you can glean some of Henry Morgan's infamous history. Truth be told, one of the highlights here is the spectacular view of the Jamaican coast where you can imagine some of history's greats also enjoying the scenery.
Green Grotto Caves
Jamaica's best-known limestone caves have seen many owners in the past. Initially, home to the Arawak Indians, it was followed by a stint as a reputed hideaway of escaped slaves, and finally as a respite of Spanish settlers fleeing from the British. In most recent history, you'll see the Green Grotto Caves featured as a backdrop in movies, most notably a Bond movie.
These days, it's mostly home to bats and other cave critters, along with the occasional tourist. Guided tours will share the fascinating history of the caves and show you the beautiful stalagmites, stalactites, and an underground lake.
8 Best Activities in Ocho Rios
If you're looking for active things to do in Ocho Rios, look no further. The city has its fair share of world class attractions but what really makes it stand out is that you're never far from the natural beauty that makes Ocho Rios so special.
Taking the crown for Leading Adventure Tourist Attraction in the Caribbean, Dunn's River Falls is probably already on your radar. The park is considered one of Jamaica's national treasures and it's without a doubt one of the most beautiful places to visit on the island.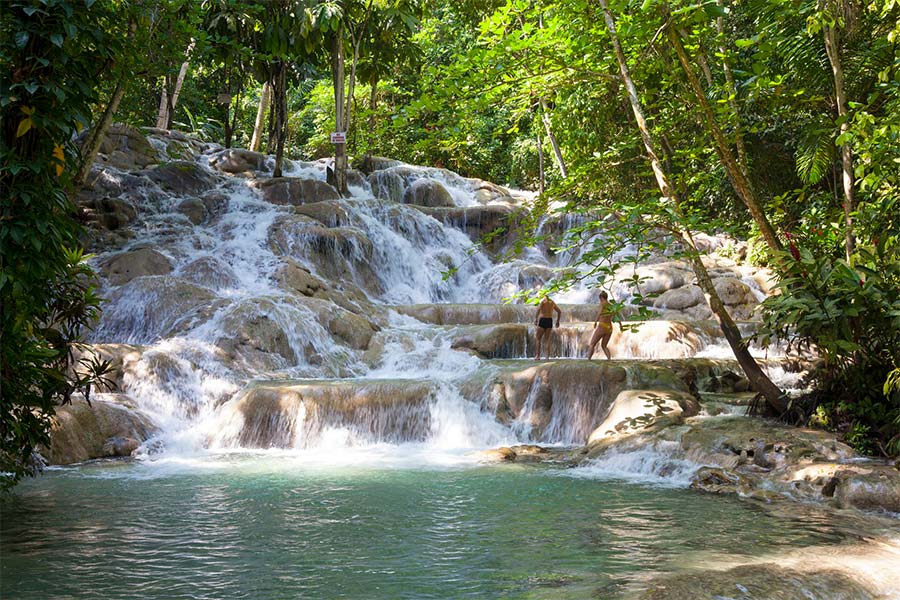 You have a few options on how to enjoy the 960 feet of Dunn's River Falls: hike a trail alongside it, take a guided climb, float the river, or simply pull up a recliner and relax at the natural beach found at the bottom. A guided tour lets you experience the falls at your leisure with a stop at an authentic jerk restaurant on the way back.
Check out our guide to Dunn's River Falls
Flying over Jamaica's rainforest canopy is a bucket list activity for many visitors to the island. There's nothing like the experience of soaring over natural waterfalls while indulging in the incredible views over the forest.
You can opt for a tour to Dunn's River Falls that includes an exhilarating zipline over the falls itself. You'll get a unique perspective as you soar hundreds of feet in the air and watch the happy climbers navigating the plunging falls.
For when you can't decide between the pool or beach, Margaritaville makes it easy. Here you'll find a private beach, pool, swim-up bar, roof-top whirlpool, and waterslide. This beach bar is also where the locals head after dark to dance thanks to its popular mid-week pool party and ladies' night every Saturday. You can couple your visit with a morning at Dunn's River Falls with this recommended combo tour.
One of the most popular things to do in Ocho Rios, especially for cruise ship passengers, is a visit to Martha Brae River. The river offers an ideal place for both bamboo rafting and tubing in Jamaica.
Rafters embark at Rafter's Village where you're guided by a captain on thirty-foot-long bamboo rafts. You'll get to learn about the famous legend of Martha Brae on your ride. The river tubing sets off from Spanish Bridge, a historical landmark dating from the 1600s. Meandering down the river in a tube is an exhilarating way to experience nature and your guide will make sure to point out all the interesting sights and wildlife you'll spot along the way.
5) Rainforest Adventures Mystic Mountain
Looking for a tropical adrenaline rush? Look no further than Rainforest Adventures Mystic Mountain. Things to do in Ocho Rios don't get more adventurous than this.
Start the day by ascending the mountain on a chairlift perched high over the rain forest. From the top, you can zoom back down on a Bobsled or fly through the canopy on the ziplines. You'll also find a rope course, climbing wall, ATVs, a thrill ride, and an infinity pool with a waterslide. Guided rain forest walks are available for a more toned-down experience when you need a break from all that adrenaline.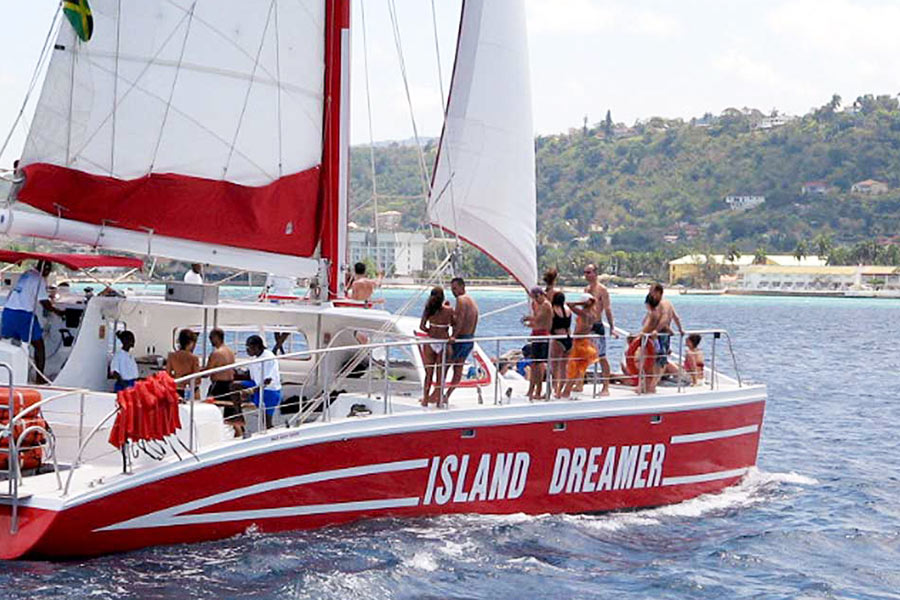 Get out on the water and explore Jamaica's coast on a sailing adventure on the Caribbean Sea. You'll enjoy lazing on the front nets of the catamaran with the caress of a gentle sea breeze easing the warmth of the sun. You can also get an introduction to a tropical underwater world with this catamaran cruise and snorkel tour that sails within the Montego Bay Marine Park. snorkeling equipment, instructions, and snorkel guides are provided to make sure you don't miss out on a single angelfish or turtle.
7) Yaaman Adventure Park
This 18th-century oceanfront estate has some fun activities on offer for those who are keen on a combination of adventure, cultural, and eco-activities. A tractor-drawn open-air carriage, referred to locally as a jitney, takes you around the 1,000-acre property on a plantation tour while the bird aviary is ideal for animal lovers. A cooking class will have you making traditional Jamaican dishes in a unique sea view kitchen. For something a little more extreme, hop on a mud buggy or ATV to explore 5 miles of lush trails.
For something a little more low-key (but just as beautiful), check out YS Falls. It's known for being a tranquil and serene place without all the crowds and lines of the more touristic falls. The adventure starts with a 10-minute tractor and jitney ride and once you're at the dallas you'll find lots of space to relax and enjoy the day.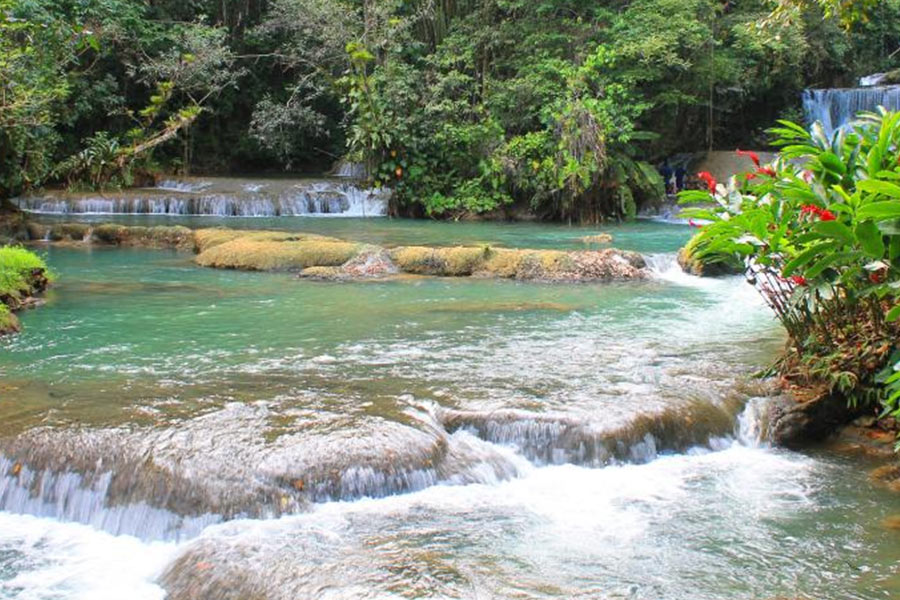 The lure of the falls is the number of waterfalls to play in (seven in all) and the chance to explore the lush tropical gardens and pristine natural pools that surround it. A YS Falls tour often includes a boat ride to quirky Pelican Bar, a bar made out of driftwood located on a sandbar ¾ mile out in the sea. A must when considering fun things to do in Ocho Rios.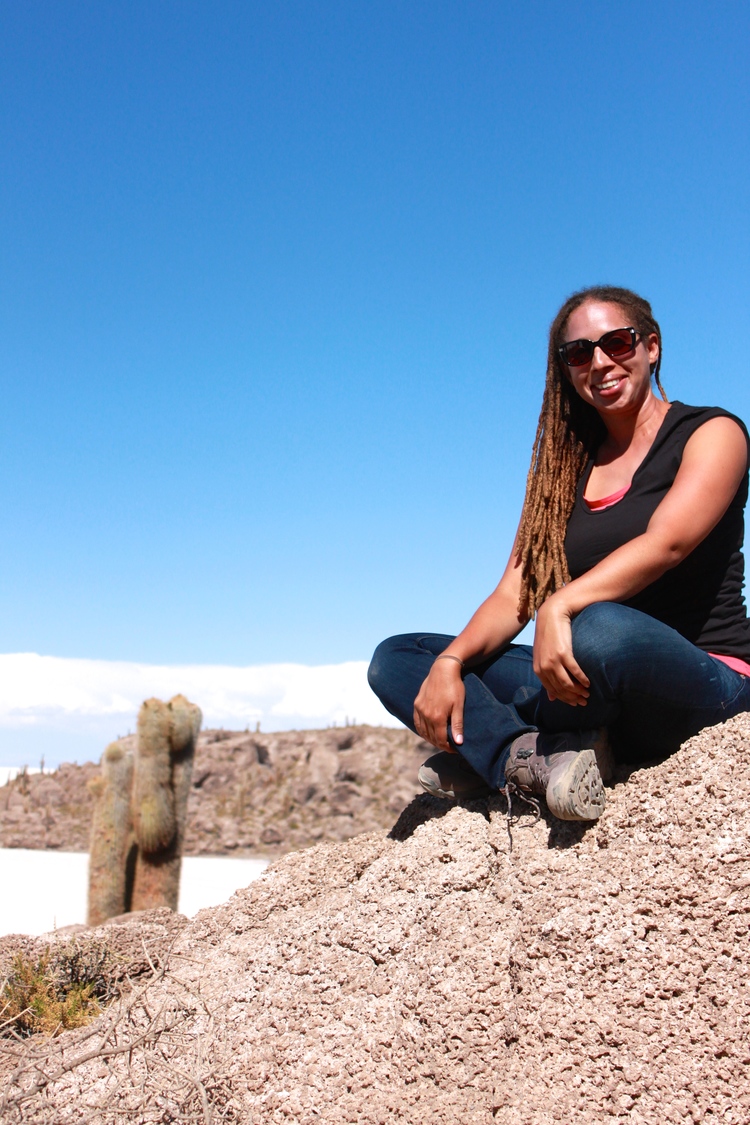 Cristal D
Local Writer, Global Traveler
Cristal was born in the Caribbean and is an explorer, traveler, and writer who inspires others to be better budget travelers and solo travelers through her blog at www.tofutraveler.com.