Best Time to Visit Jamaica
March 26, 2022 / updated April 2, 2022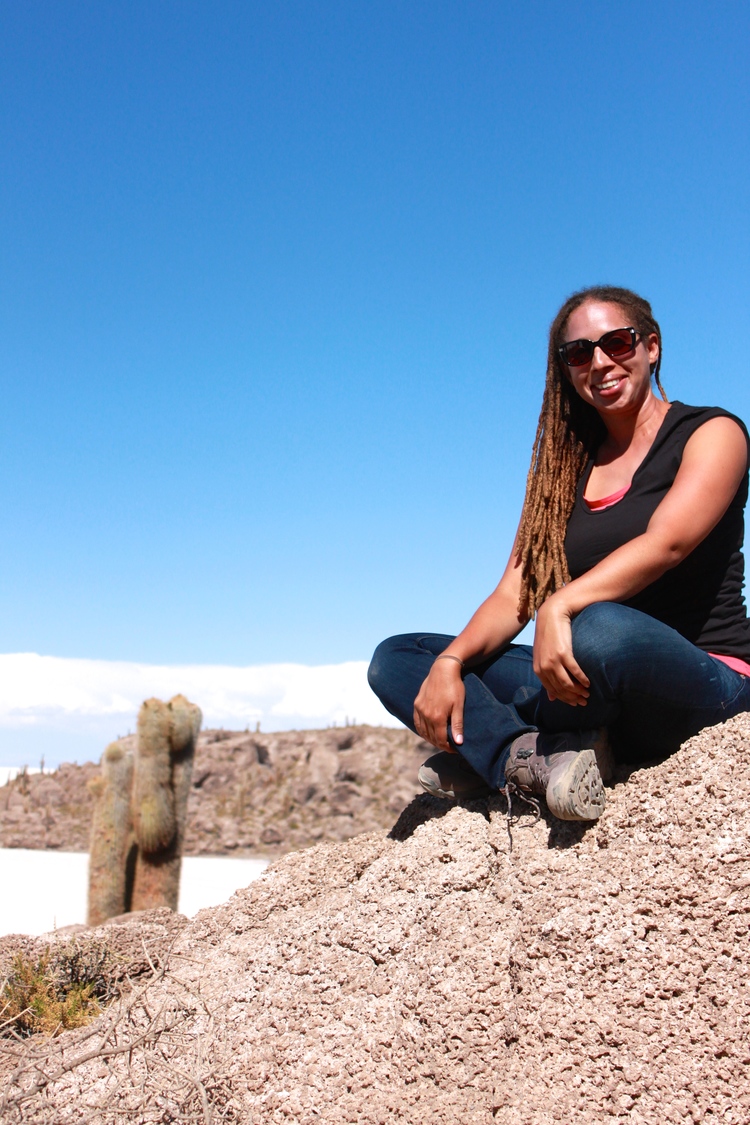 It's true. Jamaica can be enjoyed at any time of the year. Temperatures rarely get above 91°, trade winds from the north keep the island comfortable and cool, and there seems to always be a festival to look forward to.
The best time of year to visit Jamaica all depends on what you're looking for in a Caribbean island getaway. Do you want a natural escape where you can hike to waterfalls and relax on tropical beaches? Or, do you want to experience the vibrant culture of Jamaica, visit inland sites, and join in on a festival or two?
Find out the best time to visit Jamaica no matter what type of vacation you're craving with our complete guide, including what to expect during the hurricane season and how to take advantage of Jamaica's shoulder seasons.
Our Favorite Time to Visit Jamaica
November to mid-December is the best time to visit Jamaica, hands down. The weather is at its most pleasant, tourists don't start flooding in until the end of December, and hotel and flight deals are easy to find.
Similarly, late April to May is also a great time to visit. The peak season tourism starts to wane towards the end of April and the rains of the wet season usually hold off until June in most parts of the country.
Understanding Jamaica's Weather Patterns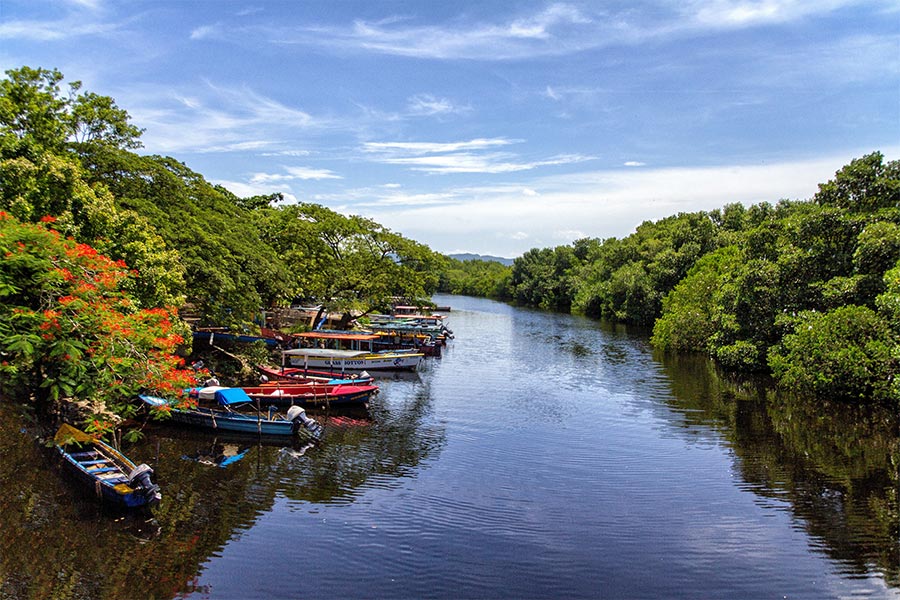 Unlike some other islands in the Caribbean, ​​Jamaica is mountainous. This means that its weather varies across the landscape.
The mighty Blue Mountains tower at over 7,500ft and its northern slopes are generally very wet. On the other hand, Kingston, the capital, is situated in a sheltered location on the south coast and typically only sees 32 inches of rain per year. Montego Bay, which lies on the north coast, sees almost double the rainfall at 60 inches average rainfall each year.
Unlike the United States or Canada, Jamaica doesn't experience four seasons or really even have a winter and summer. Instead, the region recognizes two main seasons: wet and dry.
The Wet Season
The wet (or rainy) season usually starts in July and goes until October. It's generally characterized by heavy showers and thunderstorms. Fortunately, the rain rarely falls all day. Instead, you can expect heavy afternoon showers for a few hours, if it does rain at all.
The peak of the wet season is towards the end, from August, and this is also when you can expect more storms. Saying that, each region tends to have its own weather patterns. Kingston and Ocho Rios, for example, get more rain later in the season while Negril boasts the most rainfall throughout the year with 62 inches of rain on average.
The Dry Season
Jamaica's dry season is when you can expect consistently sunny and warm days. The average daytime temperature sits around a comfortable 77° and the trade winds on the north coast keep things cool. Temperatures can even drop to 70° and much lower in the mountains.
While showers can be expected year-round, the dry season usually gets no more than 5 rainy days and an average of 2-3 inches of rain. You'll also get to enjoy eight hours of daily sunshine, which can be a rarity in winter elsewhere. The dry season is what most visitors consider the best time to visit Jamaica thanks to the comfortable climate.
The Hurricane Season
In your trip planning, you also need to be aware of the hurricane season which falls between June and November in the Caribbean. This period is when tropical cyclones form in the Atlantic Ocean and can cause havoc on your travel plans. The highest likelihood of hurricanes in Jamaica is from August to October.
It's still possible to visit Jamaica during the hurricane season as the chances of a hurricane hitting are slim. In fact, there have only been six major hurricanes in Jamaica since 1950. You can keep track of marine warnings through the National Hurricane Center.
Peak Season in Jamaica: Mid-December to Mid-April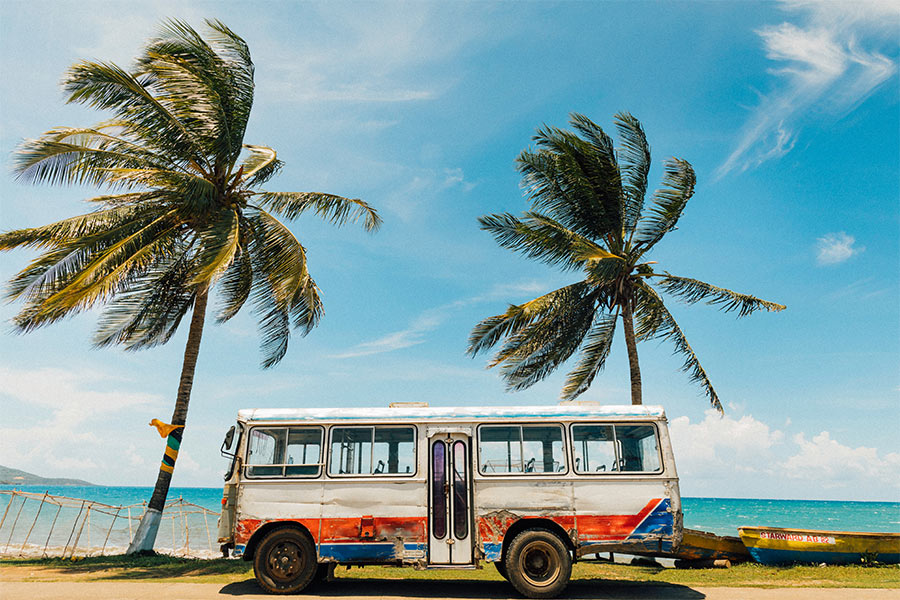 Jamaica's peak season coincides with the dry season. During this time, the island welcomes you with warm days when the sun shines bright and rain rarely is a problem. February and March are the driest months, with 1-2 inches expected on average and less than 3 rainy days. Temperatures are a comfortable 78-81º on average and it rarely gets above 88º.
With all this idyllic weather comes the crowds. You'll be brushing shoulders with everyone else who thinks this is the best time to visit Jamaica as the island sees a significant increase in cruise visits and resort stays. Prices also get a boost during this peak season as this period coincides with the Christmas holidays, New Year, Easter weekend, and spring break.
Top tip: If you're visiting during peak season, make sure to book at least three months in advance, especially if you've got your eye on a popular tour or activity for your trip.
Besides Jamaica's peak season, there are also peak days to be aware of. These are when cruise ships come to port and the island gets filled with thousands of keen day visitors. Towns like Falmouth, Montego Bay, and Ocho Rios are particularly busy on cruise ship days but Port Antonio and Kingston also get their fair share of visitors. You can try to plan around particularly busy days by checking the cruise schedule for each port and avoiding that area for the day.
Off-season in Jamaica: July to October
The off-season is when you can expect more rain and increased humidity and it's not the first period that comes to mind when planning the best time to visit Jamaica. While Jamaica never gets too warm (temperatures above 90º are rare), the humidity at this time can be uncomfortable for those who aren't used to it. If you're staying in a resort, you'll also have to make sure your hotel isn't undergoing any renovation as the off-season is usually when they schedule maintenance.
The benefit of visiting Jamaica during the off-season is that you might pick up better deals on your cruise or flights. Plus there are usually fewer tourists to contend with and getting a seat deckside at Rockhouse Restaurant or the more off-the-radar Di Dragon is a lot easier. Pools and beaches will be less crowded and a less hurried way of life descends on the island. Ideal for a period of de-stressing and relaxation.
If you are visiting during the wetter months and do experience some rainy days, there's a little known aspect of Jamaica's climate that can help with your planning. The southern coasts are not as rainy as the northern slopes, in general, as they get sheltered from the trade winds. Kingston and the Pedro Plains get much less rain than the rest of the country with an average of 31.5 inches throughout the year. You can be a little creative and plan your trip around the dryer cities.
Shoulder Season in Jamaica: Mid-April to June and November to mid-December
Shoulder seasons are periods inbetween a country's high and low seasons when you can expect a favorable balance between great weather and smaller crowds. Jamaica has two shoulder seasons occurring from mid-April to June and November to mid-December.
The weather during Jamaica's shoulder seasons can be a mixed bag but generally, you'll get few rainy days, sunny skies, and enough space to soak up all that sun. If you're visiting on a cruise ship, these are particularly good months to book as there will be fewer crowds at the ports.
November to mid-December, in particular, has great weather. The rain eases off at the end of the wet season, hotels have usually wrapped up any renovation work, and beaches and ports are less crowded as most tourists are holding off until the Christmas/New Year period to vacation.
How to determine when the best time to visit Jamaica is for you
Weather patterns certainly are one way to decide on an ideal time to visit but what if your trip is more than just about soaking up the sun? Another way to determine the best time of year to visit Jamaica for you, is to decide what you would most like to see and do when you're there. If you're up for a surfing holiday, your ideal weather will be very different than if you're planning to hike the Blue Mountains.
Beaches
If you've got your sights set on a beach holiday, then you'll want to avoid the hurricane season altogether. Sun worshippers will love Jamaica between January and March. This is when you can expect very little rain and a pleasant breeze throughout the day to keep you cool.
Snorkeling and Scuba Diving
While we like to think that Jamaica is perfect to visit year-round, it's never more true than when it comes to snorkeling and diving. If you were to really reach for the best time to visit Jamaica, the months from June to September do have a bit of an edge thanks to the visibility being especially clear. The water temperature is between 82 to 84º and while these are some of the rainiest months, you can usually avoid any cancellations by planning trips for the morning.
Surfing
Jamaica is in an ideal location to benefit from trade winds that provide conditions for surfing year-round. The water temperature is pleasant throughout the year with an average temperature of 82°C.
The very best surf conditions can be found from December to March or June to September. The summer wave swells make previously hidden spots come to life and the cold fronts that come through in winter create glassy waters.
Honeymoon
No one wants to have to deal with rain on their honeymoon so if you're after the best weather possible, plan your trip between December and March. These high season months are the best time of year to visit Jamaica for a honeymoon because the weather is a comfortable 83º and there is little rainfall expected. The shoulder season months of April and May are also a great option as it's still dry but rates start to drop, and you can expect fewer tourists around.
Budget Holiday
Everyone loves a good bargain and just because Jamaica is popular doesn't mean you won't be able to find some great deals at the right time of the year. The best time to visit Jamaica for a budget holiday is from July to October during hurricane season. If you're willing to take the risk, you're still likely to score some great weather and enjoy savings from both flights and hotels.
Hiking
Jamaica isn't just about beaches and it actually boasts one of the highest mountain ranges in the Caribbean: the Blue Mountains. If you're eager to throw some hiking boots on and explore some of the country's best trails, aim for the months between December and April. These tend to be the driest and you're more likely to find ideal conditions for hiking.
Festivals
If you're visiting Jamaica to experience its culture or to hear some local music, then you're in luck. Jamaica's calendar is packed full of celebrations and events and you might get to experience one without even having to plan for it.
The best time to visit Jamaica for events is between January and April when many major festivals occur, including:
Rebel Salute (January)
The Accompong Maroon Festival (January 6th)
Jamaica African Dance Arts and Culture Festival (February)
Bob Marley Week (first week of February)
Jamaica Jazz and Blues Festival (February/March)
Jamaica Rum Festival (February/March)
Bacchanal Jamaica Carnival (mid-February to April)
Trelawny Yam Festival (April)
If you're visiting during the rest of the year, it's likely you'll still get to participate in some of Jamaica's special blend of festivities. Here are some other festivals that are worth planning around:
Calabash International Literary Festival (end of May)
Ocho Rios Jazz Festival (June)
Reggae Sumfest (mid-July)
Montego Bay Jerk Festival (August)
Port Antonio International Marlin Tournament (October)
Port Royal Seafood Festival (third Monday in October)
The Jamaica Food and Drink Festival (November and December)
Christmas Grand Market (December)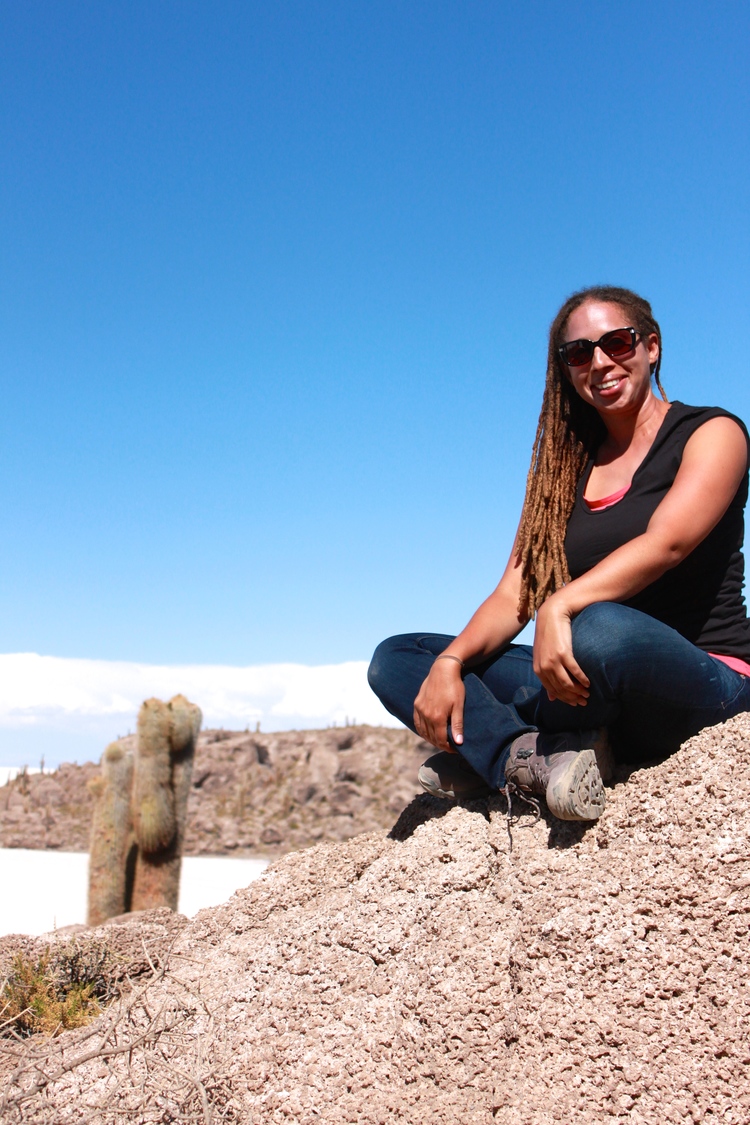 Cristal D
Local Writer, Global Traveler
Cristal Dyer was born in the Caribbean and has spent the last several decades travelling and writing, including several stints in Latin America. Currently based in Australia, she owns and operates her own travel site tofutraveler.com and is an expert travel writer, editor and photographer with a focus on solo budget travel and food tourism.
Popular Tours in Jamaica
Explore these top-rated excursions in Jamaica
Excursion Guides
Tips and information on the best activities in Jamaica